When the Great Outdoors and High Maintenance Meet!
Recipes by Chandee Bomgardner • Photography by Sara Young • Staging by Jennifer Moore
Alas, summer is here and camping is definitely one of those outdoor adventures that rise to the top of the seasonal priority list. But, for those who seek a bit more luxury from the outdoors, but still want to rough it, glamping might be just the ticket. • "Glamping", otherwise known as luxury style camping, is a glamorous way to enjoy comfort and luxurious services in a natural environment. It's the kind of accommodations that allow you to connect with nature while not sacrificing an inch of comfort. And to top it off, we have the perfect menu to make your private outdoor retreat an unforgettable one!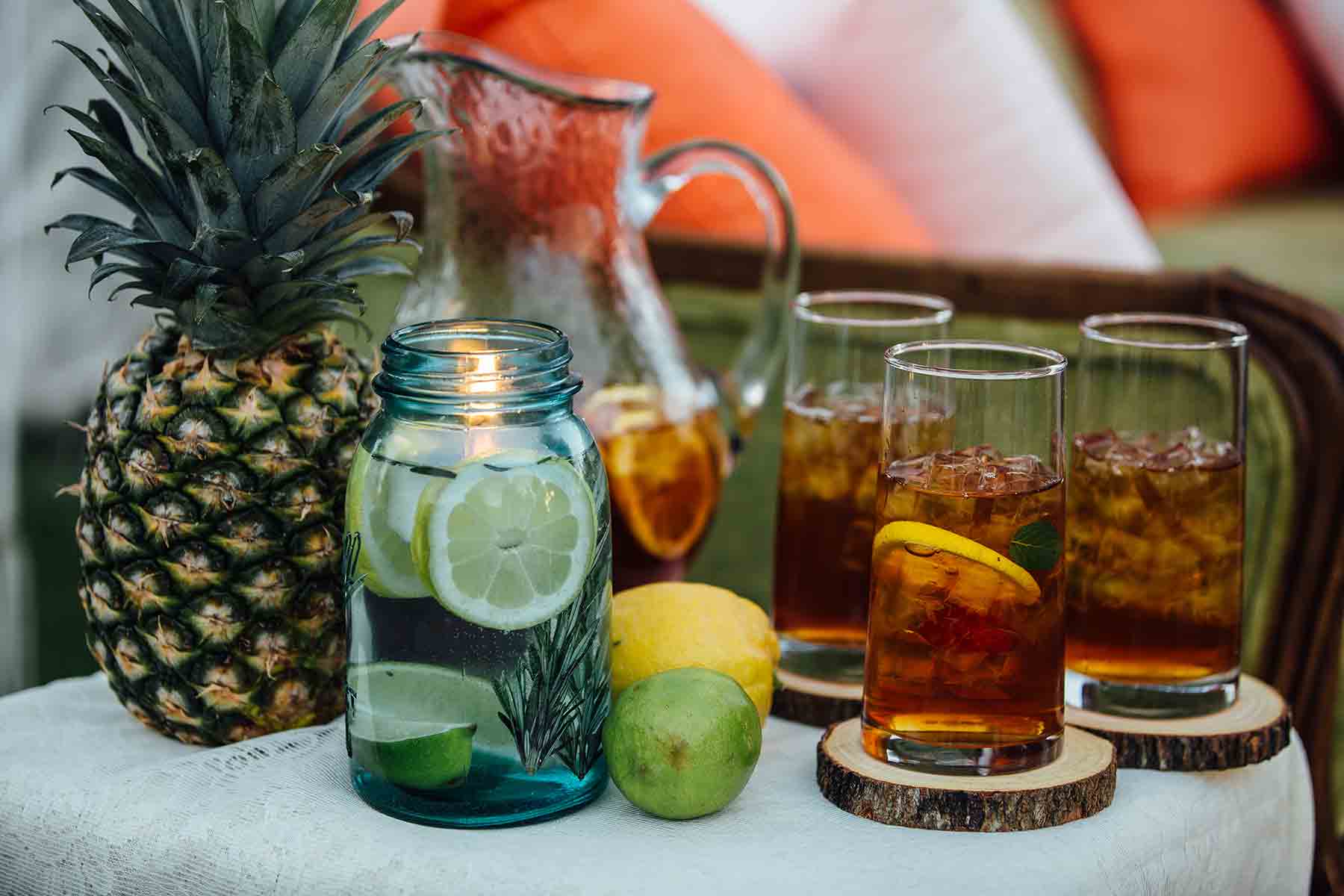 Bug Repellent Mason Jar Luminaries
Ingredients
• 1 Lemon
• 1 Lime
• 2 Rosemary Sprigs
• Floating Candles
• Water
• Mason Jar
• 10 Drops Lemon Essential Oil
• 10 Drops Lavender Essential Oil
• 10 Drops Cedarwood Essential Oil
• 10 Drops of Thieves Essential Oil
DIRECTIONS
1. Slice lemon and limes. Fill jar about 3/4 of the way.
2. Start adding 10 drops of each of your essential oils and then stir to mix.
3. Place 2 slices of each, lemon and lime.
4. Add 2 Rosemary Sprigs.
5. Fill water to the rim.
6. Place floating candle and light when placed outside.
7. Change water and fruit about twice a week to keep fresh and potent.
Prosciutto Wrapped Grilled Peaches with blood orange Balsamic Glaze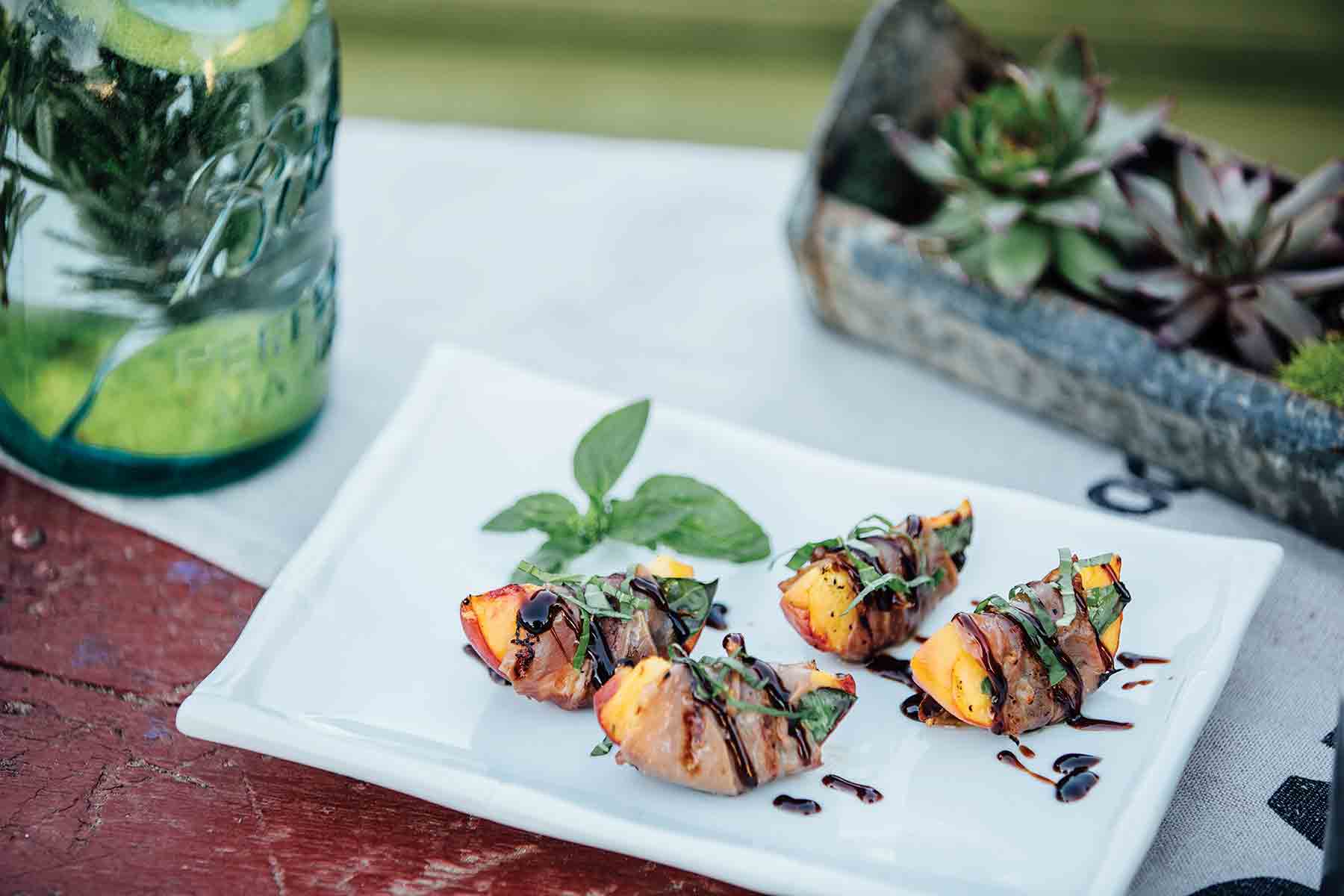 Ingredients
• 20 large basil leaves plus more for garnish
• olive oil
• balsamic glaze, store-bought or homemade
• 2 large peaches
• 3-4 ounces prosciutto
Directions
1. Set a grill to low heat and preheat for 10 minutes or so, brush the grill grates with a paper towel dabbed in oil.
2. Wash and dry peaches. Cut each peach in half and then each half into 4 quarters. Place one large basil leaf on each side of the peaches. Wrap each peach slice and basil leaves with a slice of prosciutto.
3. Brush the prosciutto wrapped peaches lightly with olive oil. Grill the peaches until the prosciutto is cooked, turning so all sides are evenly cooked, about 10-15 minutes.
4. Transfer to a serving platter. Drizzle with store-bought or homemade balsamic glaze.
5. Serve at room temperature.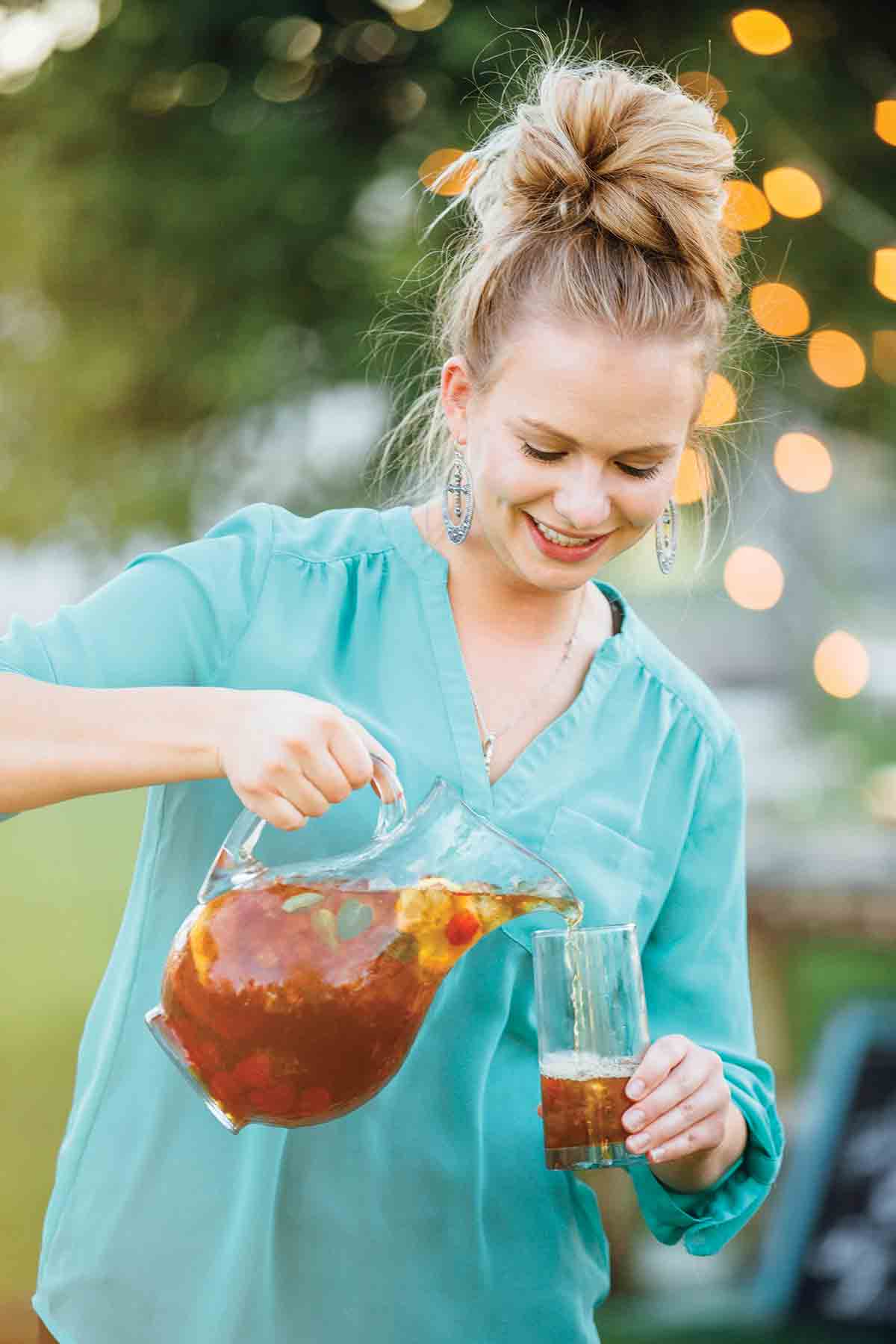 Not Your Grandma's summertime Sweet Tea
Ingredients
• 6 cups iced tea
• 3 oz Firefly vodka
• Raspberries, lemons and fresh mint, for garnishing
• Ice
DIRECTIONS
1. Mix sweet tea and Firefly Sweet Tea Vodka together in a large pitcher. Pour over ice
2. Serve in pretty glasses and garnish with rasberries, lemon slice and mint.
Grilled Salmon on a Pineapple Bark Plank with Pineapple Salsa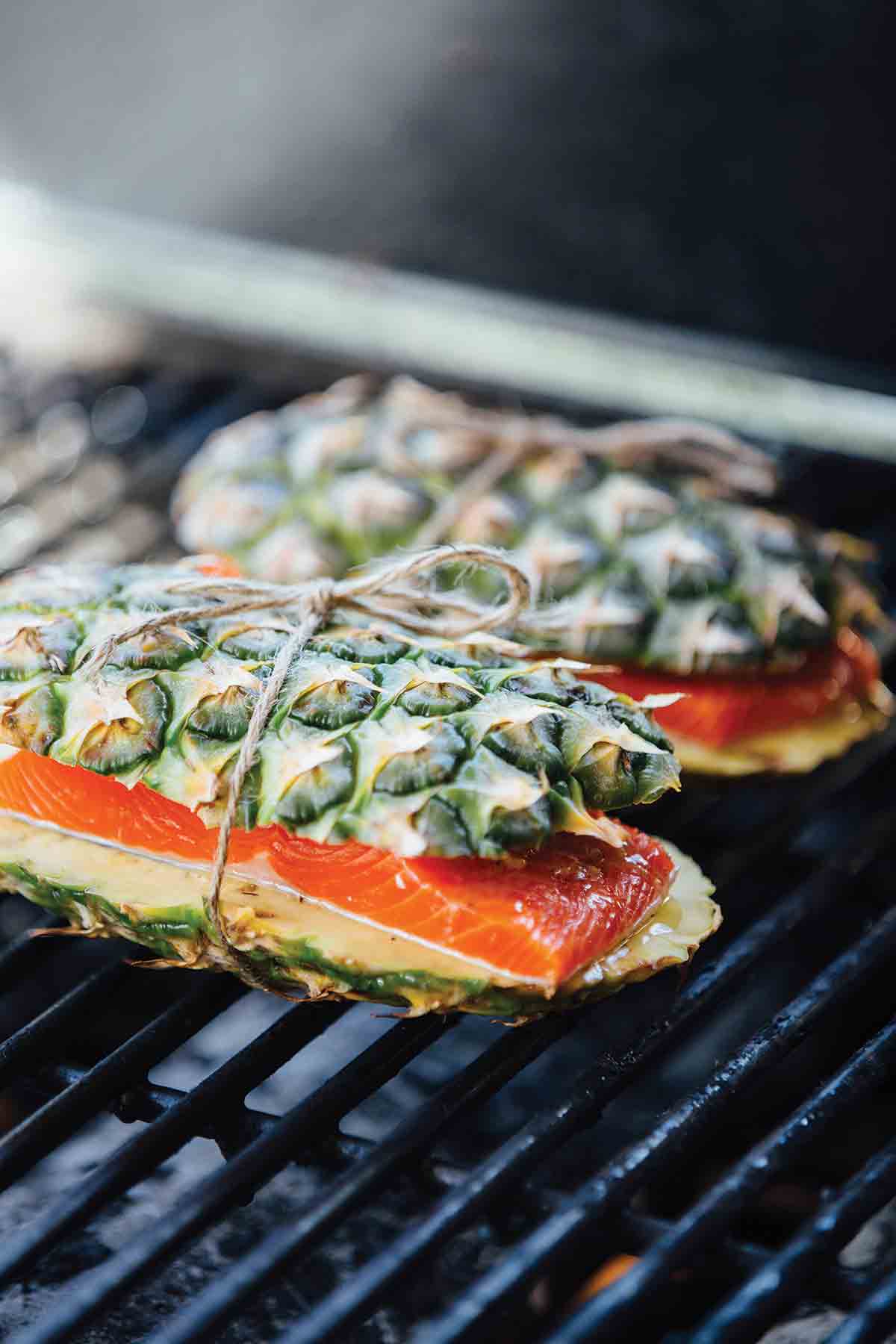 Ingredients
• 1 pineapple
• 2 6 oz. salmon filet
• 1 red or orange pepper, cut into large chunks
• ½ jalapeno pepper
• ½ red onion, cut into in to quarters
• ½ cup fresh cilantro
• honey soy glaze (see recipe)
• fresh ginger
• salt and pepper to taste
Directions
1. Cut the bark off of a pineapple into the appropriate size for your salmon. Save the inside of your pineapple to make the pineapple salsa.
2. Season your fish with salt and pepper, and sprinkle with fresh grated ginger.  Sandwich your fish between two pieces of pineapple bark.   
3. Tie it all together with kitchen twine.   
4. Grill on each side for at least 12 minutes. Because your fish is on the pineapple, it will take much longer than your usual fish cook time. 
5. While fish is cooking make the pineapple salsa. Cut remaining pineapple into ¼ inch slices, place the pineapple, pepper chunks, two red onion quarters, and the jalapeno half in a bowl and toss gently with 1-2 tablespoons of olive oil. Grill everything so there is a slight char on both sides. Cut everything into ¼ inch pieces. Mix everything together and set aside.
6. Place cooked fish on serving plates, drizzle with honey soy glaze and top with pineapple salsa.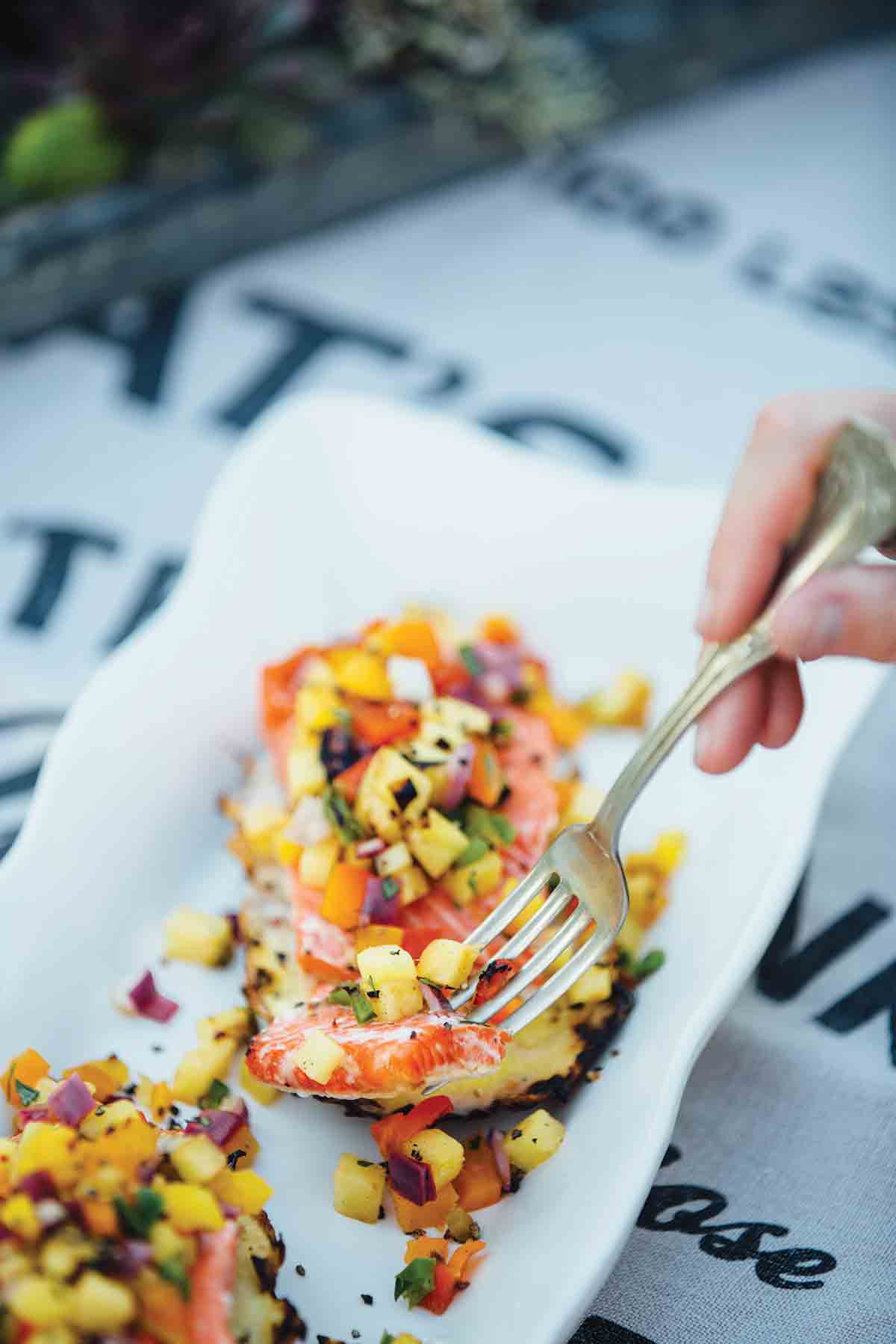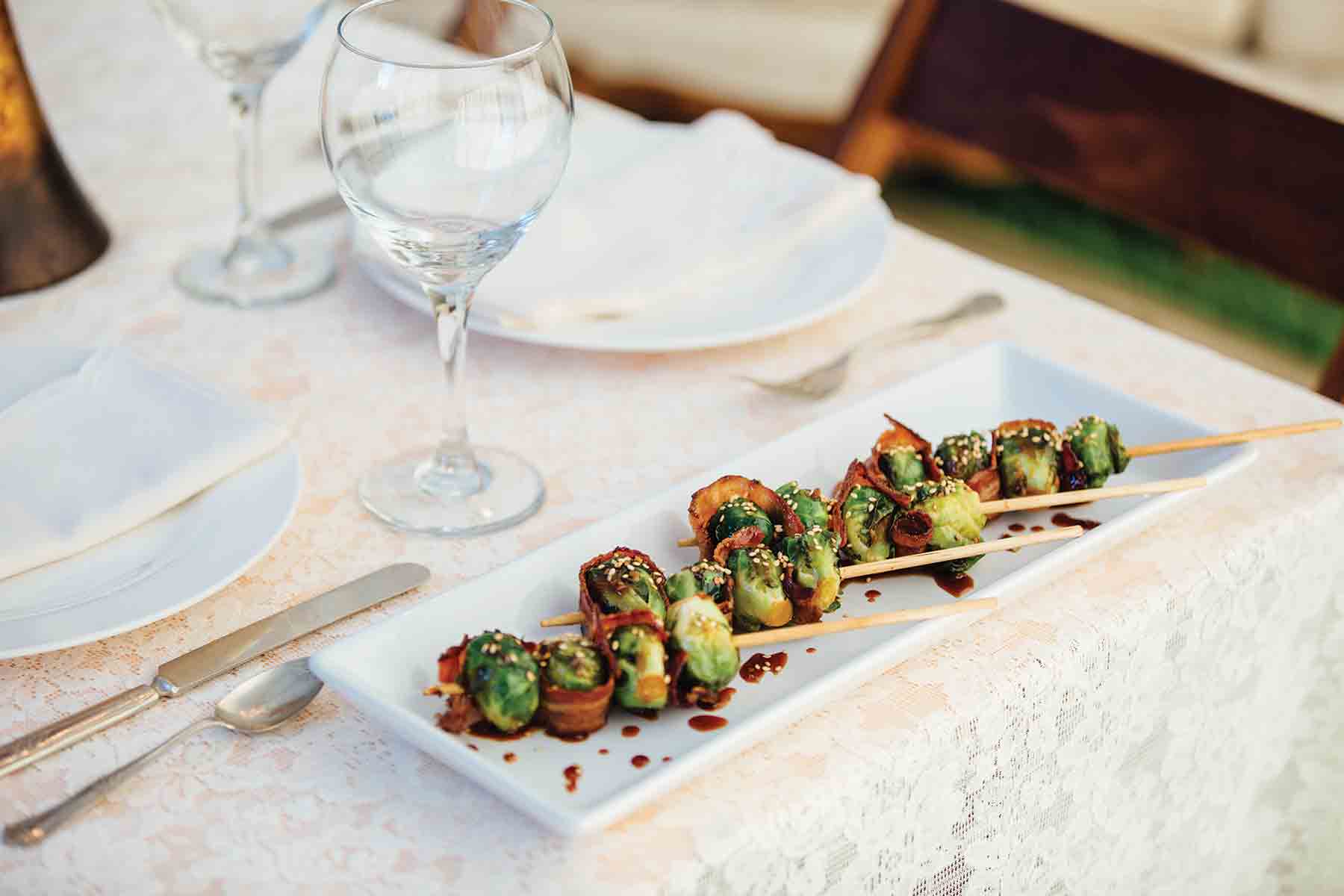 Bacon & Brussels Sprout Skewers with Honey, Soy and Sriracha Sauce
INGREDIENTS
• 1 pound bacon
• 2 pounds brussel sprouts
• 1 Tablespoons Olive oil
• 1 teaspoon fresh garlic
• 1/4 teaspoon sea salt
• Small wooden skewers
Sauce:
• 1/3 cup honey
• 1/3 cup soy sauce
• 1-2 Tablespoons Sriracha sauce
• Toasted sesame seeds for garnish
Directions
1. In a frying pan on medium heat, cook the bacon until it's partially cooked but still soft and pliable. (If you overcook the bacon, it will be difficult to weave it onto the skewer.) Remove the bacon from the pan, and set it aside. Remove the bacon grease from the pan, leaving just enough to coat it.
2. Cut the brussel sprouts in half lengthwise or leave whole if small. Add the sprouts, butter, garlic, and sea salt to the frying pan. Sauté on medium heat until the sprouts are tender and browned. Remove the brussel sprouts from the pan, and set aside.
3. Add the honey, soy sauce, and sriracha sauce to the pan and cook until the consistency of a thick syrup.
4. Preheat the oven to 375ºF, or a barbecue grill on medium heat.
5. Assemble the skewers by threading 1 end of the bacon onto the end of a skewer. Add a brussel sprout slice, and weave the bacon around the sprout and back through the skewer, creating a wave pattern between the sprouts. Move the bacon and the sprout down the skewer, and repeat this process 2-3 more times for each skewer.
6. Bake the skewers in a baking pan or barbecue for 5-10 minutes, or until the bacon is fully cooked.
7. Drizzle with sauce and garnish with sesame seeds.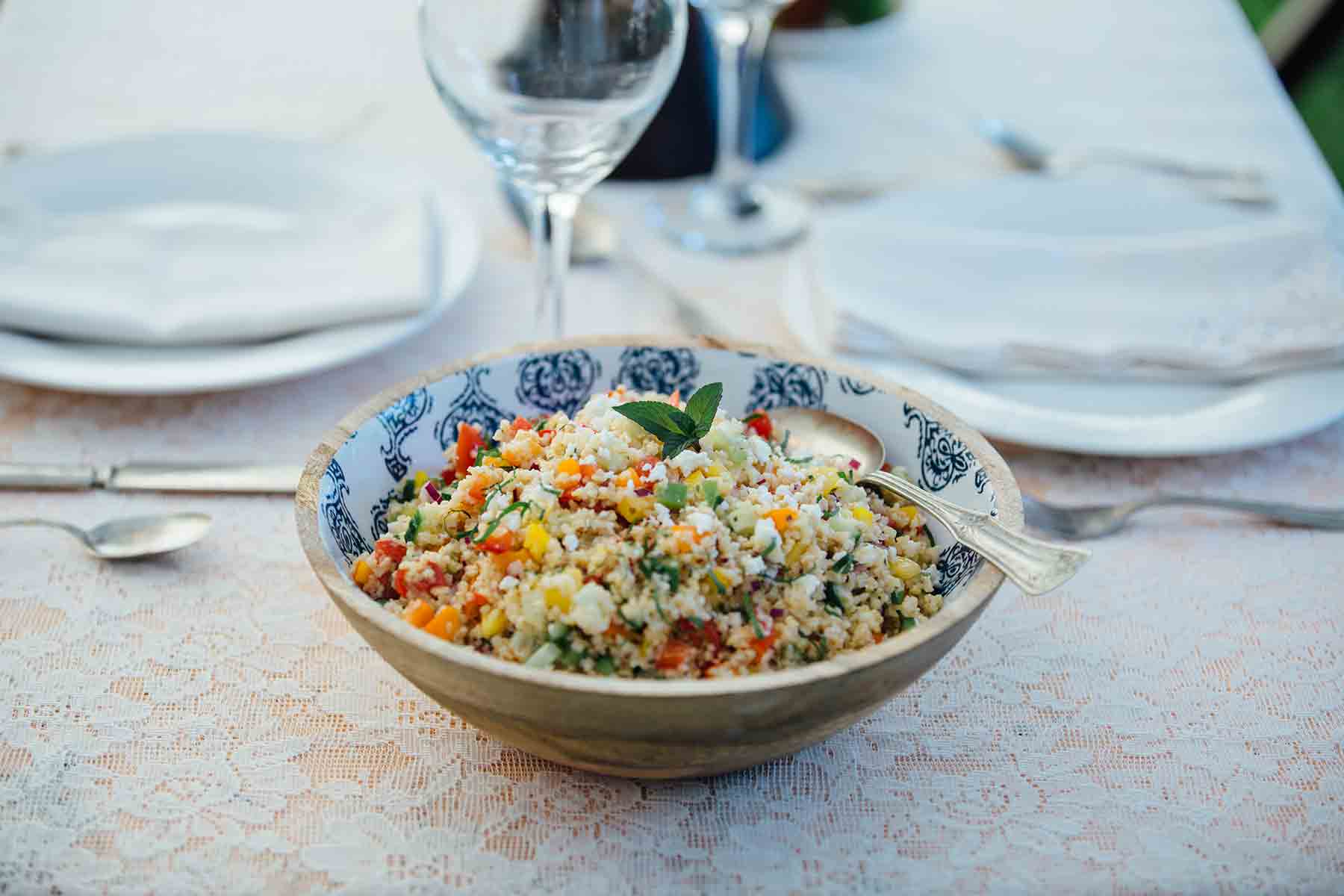 Mediterranean Kamut Bulgur Salad with Fresh Mint (below)
• 2 cups dried bulgur (prepare according to directions )
• ½ of each, orange, red and green diced peppers
• 1 English cucumber, cut into 1/8 to ¼ inch pieces
• ½ cup feta cheese crumbles
• Homemade or bottled Mediterranean dressing
• ½ to ¾ cup fresh chopped mint
Mix all ingredients together in a bowl, refrigerate at least 15 minutes.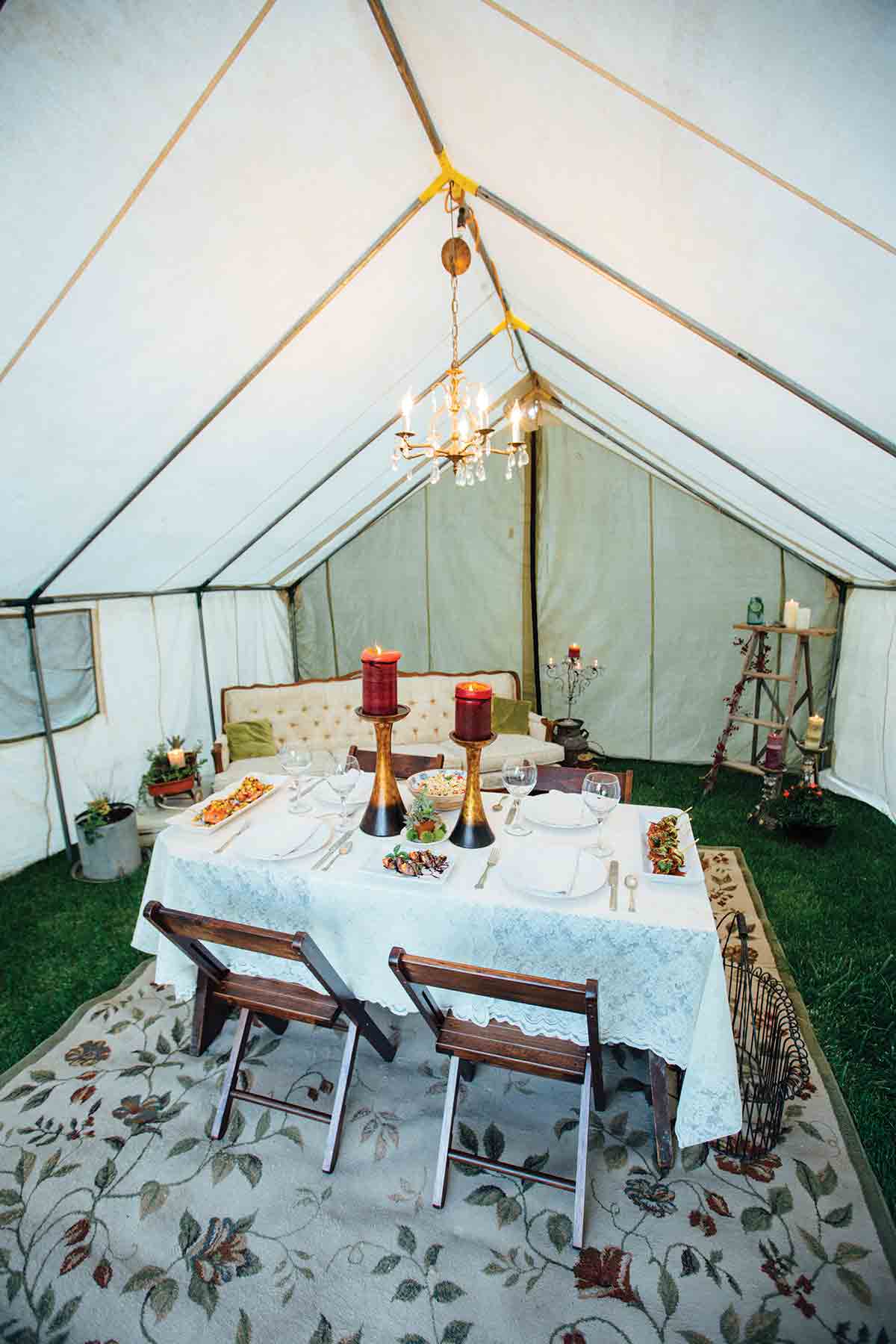 Mediterranean Dressing
INGREDIENTS
• 2 teaspoons salt (I use seasoned salt)
• 1 tablespoon onion powder
• 1 tablespoon fresh minced garlic (or to taste)
• 1 1⁄2 tablespoons Dijon mustard
• 1⁄3 cup parmesan cheese (or to taste)
• 1⁄2-1 teaspoon ground black pepper
• 1 1⁄2 cups olive oil
• 1⁄2 cup red wine vinegar
• 1 teaspoon sugar or more to taste
• 1 1⁄2 tablespoons oregano
• 1 1⁄2 tablespoons basil
Directions 
1. Pour all ingredients in a large glass jar, and whisk or mix with a spoon until well combined or you can also blend in a processor or a blender.
2. Adjust all seasonings to suit taste, including the sugar and salt.
3. Let sit in fridge for a minimum of 2 hours.
4. Shake very well before using.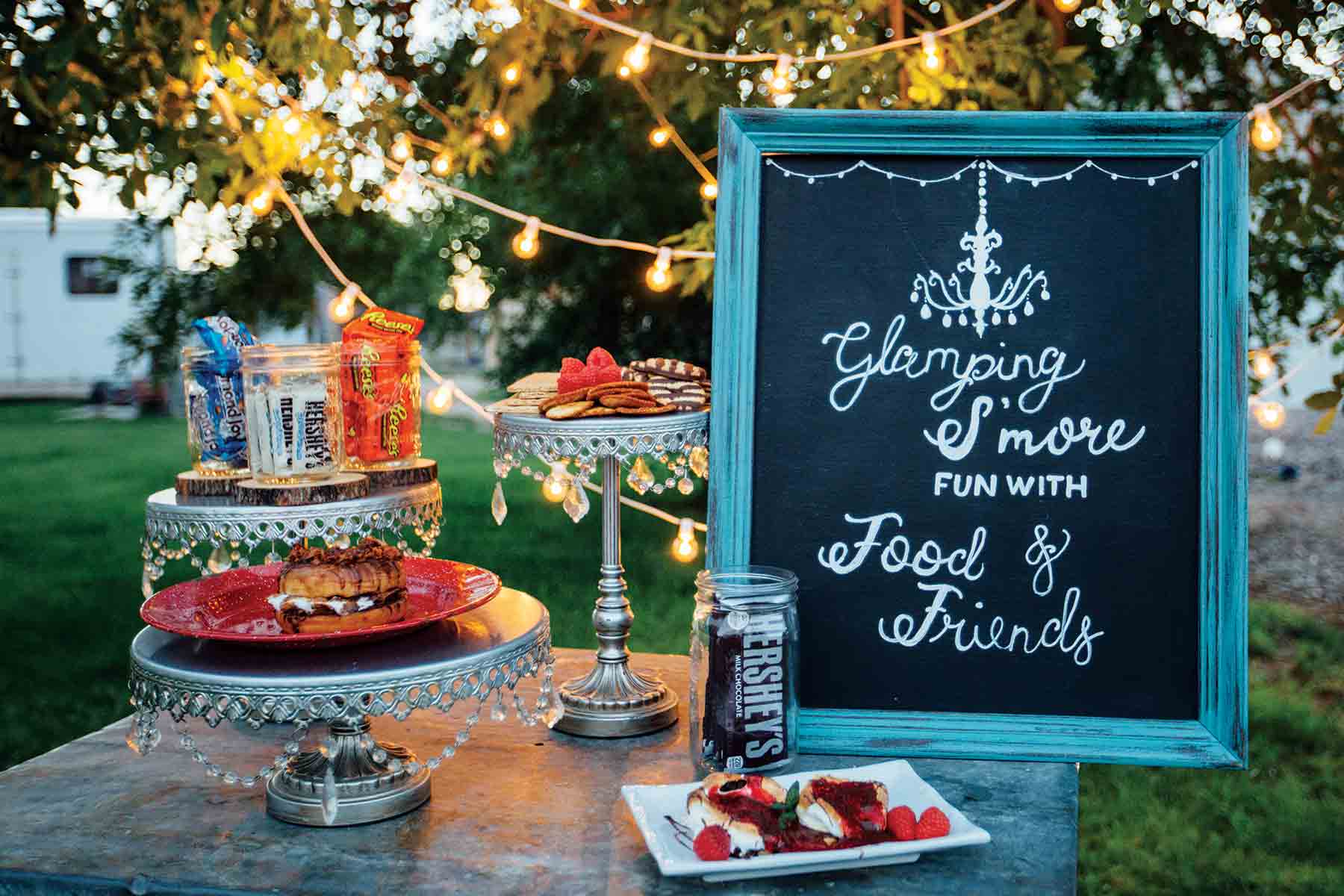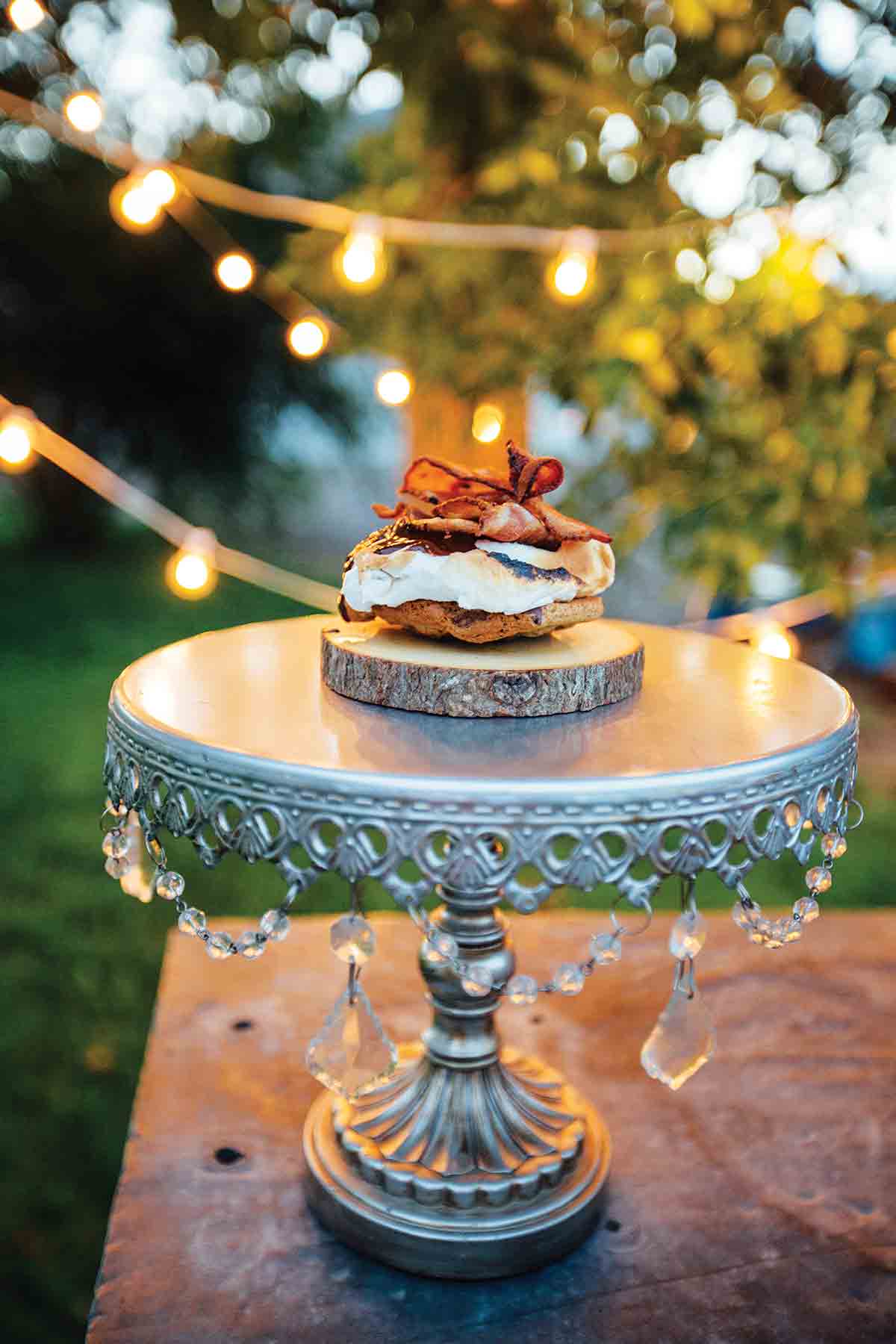 Raspberry S'mores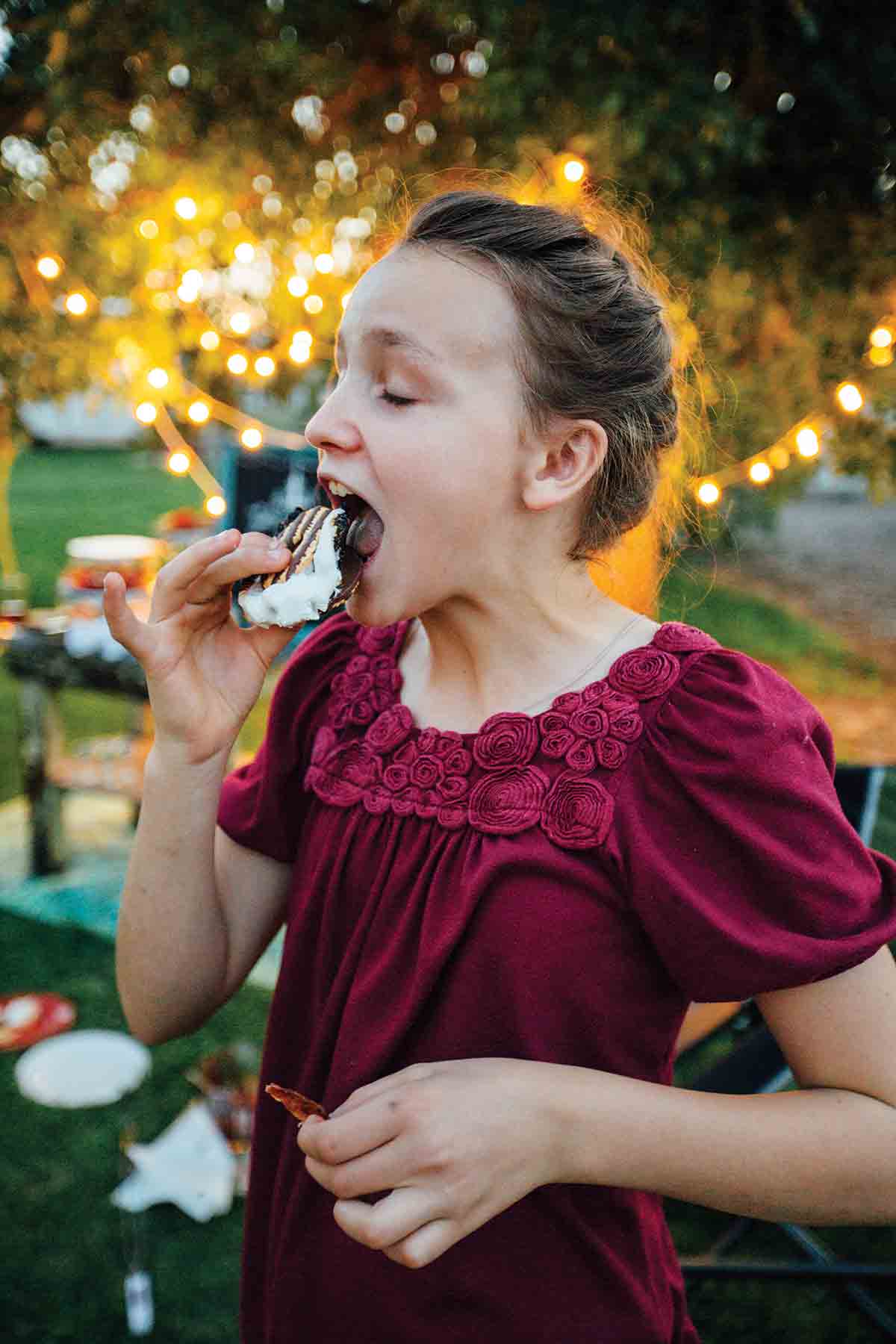 • Graham Crackers
• Toasted marshmallows
• Fresh raspberries
• Chocolate hazelnut spread
• Raspberry sauce (see recipe)
Raspberry Sauce
Ingredients
• 1 cup fresh raspberries
• 1 cup powdered sugar
• 1 teaspoon cornstarch
Chocolate Chip Cookie Bacon or  Maple Glazed Donut  S'more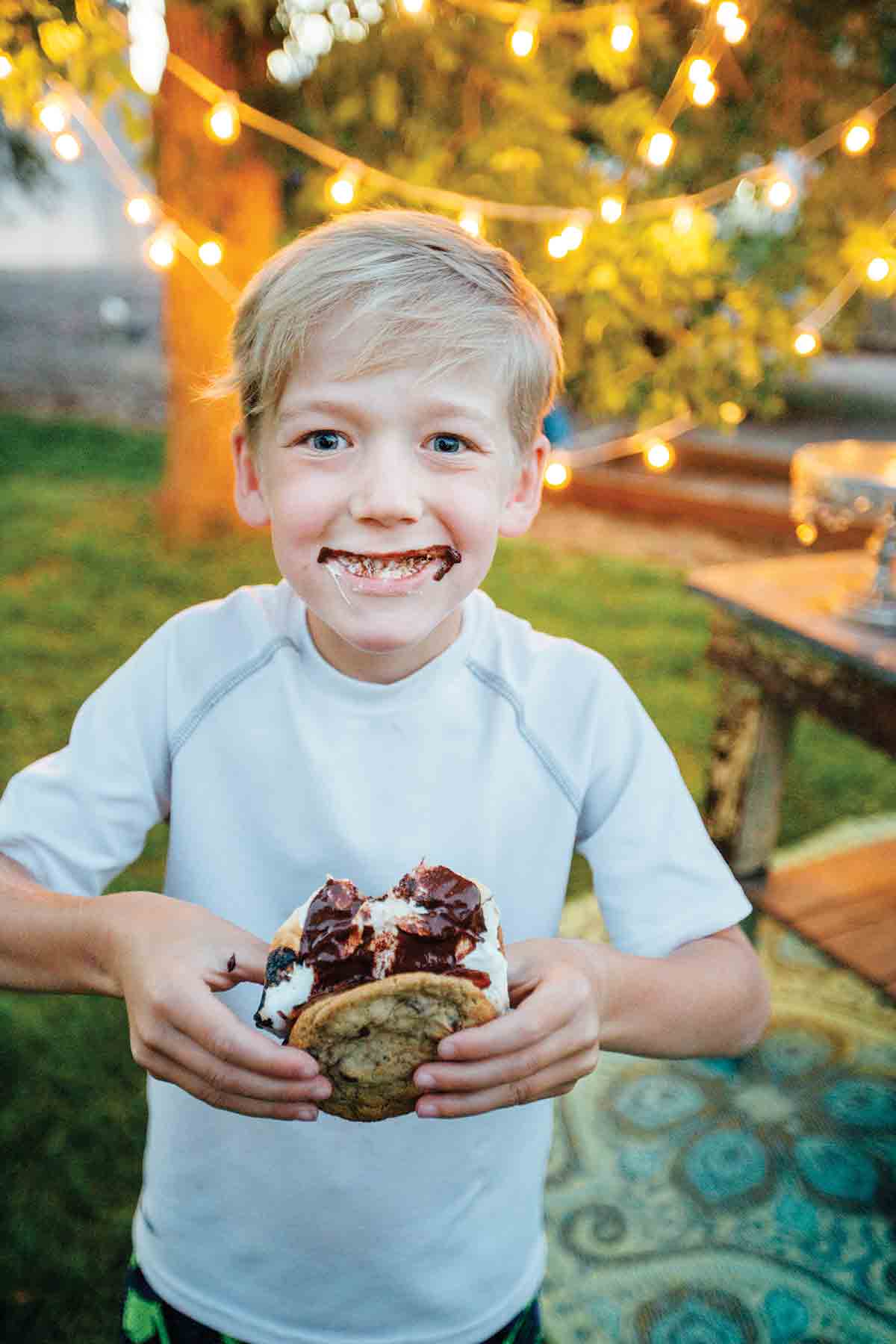 Ingredients
• Bacon
• Marshmallows
• Chocolate bars
• Chocolate Chip Cookies
• Maple Donut
Directions
1. In a small sauce pan, combine the raspberries, sugar and corn starch over medium heat.
2. Smash the berries with a potato masher and mix until the sugar is dissolved.
3. Bring the mixture to a simmer and cook for 2 minutes.
4. Remove from heat and cool for 5 minutes before transferring to a jar. Seal with a lid and store in the refrigerator for up to one week.