A New Food Trend Offers Highly Nutritious, Easy to Prepare & Affordability in the Kitchen Recipes by Electric City Coffee | Photography by Jacqui Smith Bacon & Lentil Caprese Salad
· 12 ounces Groundworks Farm bacon
· Salt and pepper to taste
· 1 tablespoon freshly squeezed lemon juice
· 6 cups tossed spring greens and Prairie Heritage Farms Spinach
· 1 cup cooked pulse red lentils
· 1 cup cherry tomatoes, quartered
· ½ cup mozzarella balls
· 3 slices roasted beets
· 3 slices avocado
· 2 cups balsamic vinegar
· Freshly cracked black pepper
Instructions
While bacon is baking, prepare the balsamic reduction. In a small saucepan bring balsamic vinegar to a boil, then reduce heat and allow to simmer for about 15 minutes until slightly thickened. Remove from heat and transfer to a bowl to cool.
Chop bacon into strips or cubes. In a large bowl toss together the bacon, spring greens, lentils, cherry tomatoes, and mozzarella. Just before serving, drizzle with balsamic reduction and sprinkle with black pepper. Serve immediately.
Sugar Snap Pea and Carrot Soba Noodles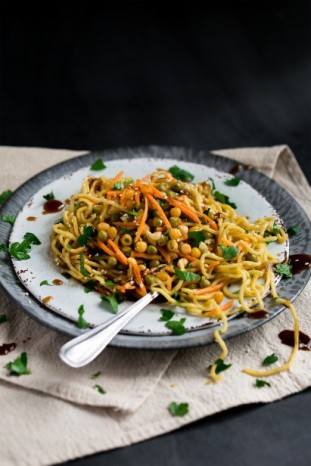 Soba
· 6 ounces soba noodles
· 2 cups pulse yellow and green peas
· 6 medium-sized carrots, shredded
· ½ cup chopped fresh cilantro (about 2 handfuls)
· ¼ cup sesame seeds
Ginger-sesame sauce
· ¼ cup reduced-sodium tamari or soy sauce
· 2 tablespoons peanut oil or extra-virgin olive oil
· 1 small lime, juiced
· 1 tablespoon toasted sesame oil
· 1 tablespoon honey or agave nectar
· 1 tablespoon white miso*
· 2 teaspoons freshly grated ginger
· 1 teaspoon chili garlic sauce or sriracha
Instructions
1. To prepare the vegetables: Use a chef's knife to slice the peas in half lengthwise (or just roughly chop them). Slice the carrots into long, thin strips with a julienne peeler, or slice them into ribbons with a vegetable peeler.
2. To make the sauce: whisk together the ingredients in a small bowl until emulsified. Set aside.
3. Bring two big pots of water to a boil. In the meantime, toast the sesame seeds: Pour the sesame seeds into a small pan. Toast for about 4 to 5 minutes over medium-low heat, shaking the pan frequently to prevent burning, until the seeds are turning golden and starting to make popping noises.
4. Once the pots of water are boiling: In one pot, cook the soba noodles just until al dente, according to package directions (probably about 5 minutes), then drain and briefly rinse under cool water. Cook the frozen edamame in the other pot until warmed through (about 4 to 6 minutes) but before draining, toss the halved peas into the boiling edamame water and cook for an additional 20 seconds. Drain.
Combine the soba noodles, edamame, snap peas and carrots in a large serving bowl. Pour in the dressing and toss with salad servers. Toss in the chopped cilantro and toasted sesame seeds. Serve.
Creamy Farro with Pesto, Asparagus and Peas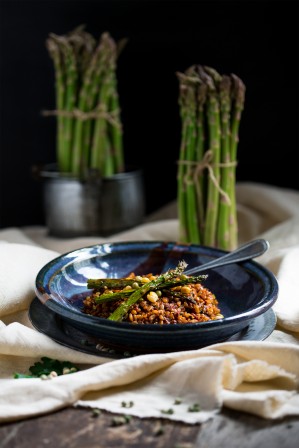 Ingredients
· 1 1/4 C Farro
· 3 1/2 C Water
· 4 Tbs Pesto
· 1/2 tsp + 1/4 tsp Sea Salt, divided
· 1/2 tsp Black Pepper, ground, divided
· 1 lb Fresh Asparagus, cut into 1" pieces
· 3 Tbs Fresh curly parsley, finely chopped and divided
· 2 (28g) Tbs Extra Virgin Olive Oil
· 1/4 tsp Red Pepper Flakes
· 1 Tbs Fresh Chives, finely chopped
· 1 C pulse green and yellow peas
· 1 Lemon, zested and juiced, divided
Instructions
· Rinse the Farro under running water. In a medium saucepan add the Farro and water. Bring to a boil, reduce heat to medium-low and simmer for 30 minutes. Stir occasionally. It will begin to thicken and become creamy.
· To the cooked Farro, stir in the pesto, 2 Tbs of parsley, 1/2 the lemon zest and juice, 1/2 tsp salt, 1/4 tsp ground black pepper. Stir well, taste for seasoning adjustment and set aside with lid on to keep warm.
· For the veggies, fill a medium sauce pot or saute' pan with about 1/8" of water. Heat until little boiling bubbles appear around the edge of the pan. Turn heat to medium-low. Toss in the asparagus and peas. Give the pan a good shake, put a lid on it and set a timer for 4 minutes. The veggies will steam during this time and become tender-crisp. Drain immediately. Sprinkle veggies with 1/4 tsp salt, 1/4 tsp pepper, olive oil, red pepper flakes, and remaining lemon zest and juice. Give it a good stir. Taste for seasoning adjustment. For roasted flavored veggies, place on baking sheet with olive oil, salt, pepper and a lite sprinkle of red peppers. Roast for approximately 15-20 minutes at 325 degrees (cooking time will vary due to ovens)
· To plate, serve the veggies on top of the Farro, garnish with remaining parsley, chives and chive flowers. Serve warm, or chilled.
Beet Hummus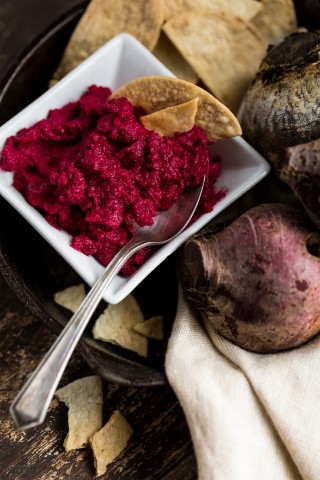 4 large beets
15 ounces Chickpeas
Juice of 1 lemon
2 large garlic cloves (minced)
2 tablespoons tahini
1-2 tsp cumin
1/2 teaspooon smoked paprika
1/4 – 1/2 teaspoon sriracha sauce (optional)
1/2 tsp olive oil
1/4 tsp salt
Pepper to taste
Cut beetroots into 1/2 inch cube and place in oven and roast with lite sprinkling of salt and pepper.
Preheat oven to 400 degrees and place chopped beets on a baking sheet with a bit of olive oil. Roast until tender.
While the beets cook: In a food processor add chickpeas, lemon juice, minced garlic, tahini, paprika, sriracha, salt, olive oil and salt. Set aside. When the beets are cool enough to handle, add them to the food processor and purée all ingredients. You can also leave it a bit chunky, if you prefer the texture!
Serve in a bowl and with chopped walnuts and dill to garnish. It's best paired with quality crackers and feta.
Baked Falafel Burgers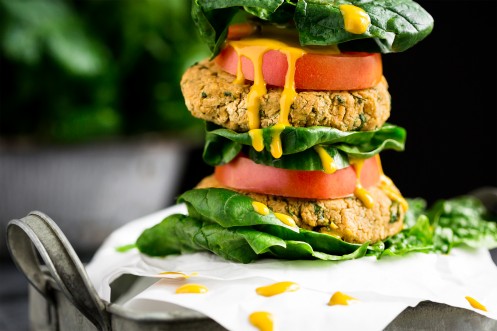 Falafel
· 1 bundle fresh parsley (~2 cups chopped)
· 1 large lemon (~2 1/2 Tbsp juice)
· Scant 1/2 tsp sea salt + black pepper
· 1 15-ounce can chickpeas, well rinsed and drained
· 3 large cloves garlic
· 1 1/4 tsp cumin
· 1/4 – 1/2 cup GF oat flour
· Tomato, Lettuce, Onion
· Pita or sturdy greens, such as Prairie Heritage Farms Spinach or collard greens
Instructions
1. Add parsley, garlic, lemon juice, cumin and a healthy pinch each salt and pepper to a food processor and mix to combine.
2. Add chickpeas and pulse until incorporated but still slightly chunky. You want to maintain a bit of texture.
3. Transfer to a mixing bowl and add nut meal (or oat flour) and mix again until a loose dough is formed that's firm enough to be handled. Taste and adjust seasonings as needed. I added a touch more salt.
4. Draw an "x" in the dough to form 4 sections, then use your hands to form into 4 large patties roughly 1/2-inch thick.
5. Place on a foil-lined baking sheet and refrigerate or freeze for 15 minutes to firm up. Preheat oven to 375 degrees F in the meantime.
6. OPTIONAL STEP: For a little extra crust on the outside, before baking heat a large skillet over medium to medium-high heat and add 2 Tbsp olive or canola oil. Swirl to coat pan, then add falafel. Carefully flip once golden brown – about 3-4 minutes – and then cook on the other side until golden brown as well – 3-4 more minutes. Return to baking sheet to continue baking. Otherwise, just add them straight to the oven for baking.
7. Bake for a total of 30-40 minutes, flipping once at the halfway point for even cooking. The longer you bake them, the firmer they'll get! Pictured with a Jalapeno Honey Mustard
Cherry Pie Ice Cream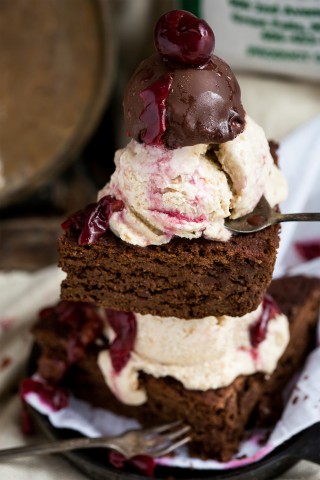 Ice Cream
· 1 1/2 cups raw cashews, soaked in cool water for 4-6 hours or overnight, or 1 hour in very hot water, then drained
· 1 13.5-ounce can full fat coconut milk (sub light with less creamy results)
· 3 Tbsp melted coconut oil or olive oil
· 1/4 cup (60 ml) maple syrup or agave nectar
· 1/4 cup (50 g) organic cane sugar (or sub maple syrup)
· 1 tsp pure vanilla extract
· pinch sea salt
Cherry Filling
· 3 cups sweet red cherries, pitted and halved
· 1-2 Tbsp water or orange juice
· 1-2 Tbsp maple syrup, organic cane sugar, or coconut sugar
· 1 Tbsp flour (for thickening)
Instructions
· The night before, be sure to soak your cashews and place your ice cream maker bowl in the freezer to chill.
· To a high speed blender add soaked, drained cashews, coconut milk, oil, maple syrup, cane sugar, vanilla, and sea salt. Blend until creamy and smooth, scraping down sides as needed.
· Taste and adjust sweetness as needed, adding more cane sugar or maple syrup if desired – I found 1/4 cup maple syrup and 1/4 cup + 1 Tbsp cane sugar to be perfect.
· Transfer to a mixing bowl and cover. Freeze for 1 1/2 hours to chill. · While the base is chilling, prepare cherry compote by adding cherries, water or orange juice, maple syrup or sugar, and flour to a small saucepan and bringing to a simmer over medium heat.
· Use a wooden spoon to smash cherries and stir to incorporate. You want to break them down quite a bit so the ice cream scoops easier later on. Turn heat to low and let simmer for 3-5 minutes, or until it resembles cherry pie filling. Remove from heat – set aside.
· Enjoy immediately as soft serve, or transfer ice cream to a freezer-safe container and smooth flat with a spoon.
· Cover securely and freeze for 4-5 hours or until firm. Before scooping, set out for 20-30 minutes to soften and use a hot scoop to ease the scooping process. I found this ice cream easier to scoop into balls rather than in rows, since the cherries form little chunks in the ice cream. The extra work is worth the effort!
*For a slightly tart edge, add the juice of 1 lemon when blending the ice cream batter.
Chocolate Chickpea Truffles
Yield: 18-20 truffles
Ingredients
· 1 cup rolled oats (certified gluten-free, if required)
· 1/2 cup + 1 tablespoon cooked (or canned) chickpeas
· 1/2 cup cashew butter or vegan butter
· 1/4 cup maple syrup
· 1/4 teaspoon salt
· 1 cup Vegan bittersweet/dark chocolate chips
· cacao nibs for sprinkling
Instructions
· Combine the oats and chickpeas in the bowl of a food processor and pulse until they are in small pieces. Add the cashew butter, maple syrup, and salt and process until it forms a smooth ball. You may need to scrape the sides a few times.
· Line a baking sheet with parchment paper. Use a tablespoon to scoop level spoonfuls and then use your hands to roll the filling into a ball. Repeat with the rest of the filling. Place the baking sheet in the freezer and freeze for 20-30 minutes.
Melt the chocolate chips in a small pot on low heat. One by one, drop one of the balls into the chocolate and use a spoon to completely cover it with chocolate, scoop it out and place back on the baking sheet. While the chocolate is still wet, sprinkle a tiny bit of cacao nibs on top of each truffle. Once they are all done, allow them to sit at room temperature until the chocolate is set. Refrigerate until ready to eat (the chocolate begins to get a little melty after about 5-7 minutes, so it is best to keep them refrigerated until right before you eat them).
Dark Chocolate Chickpea Brownies
Ingredients
· 1 14-ounce can chickpeas drained and rinsed
· 2 teaspoons baking powder
· 1/3 cup raw cacao powder
· 1 teaspoon coffee grinds
· ½ cup dark chocolate chips
· 3 tablespoons full-fat canned coconut milk
· 2 eggs
· 2/3 cup coconut sugar
Instructions
· Preheat the oven to 350 degrees F and line a 9" x 9" pan with parchement paper (or lightly oil it).
· Add all ingredients for the brownies to a blender and blend until completely smooth.
· Pour the brownie batter into the prepared baking pan and bake for 24 to 26 minutes or until brownies test clean.
· Allow brownies to cool at least 20 minutes before cutting and serving