Dutch Oven Meals Fit for Even the Most Discriminating Palates
Recipes by Chandee Bomgardner
Photography by Sara Young | Staging by Jennifer Moore
The idea of "outdoor cooking" typically conjures up images of hot dogs or marshmallows speared on a stick and held over the brightly lit embers of a campfire. If you are seeking a slightly higher level of dining sophistication without a significant amount of trouble, SignatureMT has two words that might change your view on roughing it in the outdoors: Dutch oven. The art of "leather-glove cuisine" is making a comeback despite today's high-tech hustle-and-bustle lifestyle. Campfire cooks and backyard chefs are dusting off an integral and versatile part of Americana to prove once again that anything you can fry, stew, bake, roast or boil in the kitchen can just as easily be done in the great outdoors with a cast-iron workhorse …the Dutch oven.
Mountain Man breakfast with eggs and Bacon, Apple and Potato Hash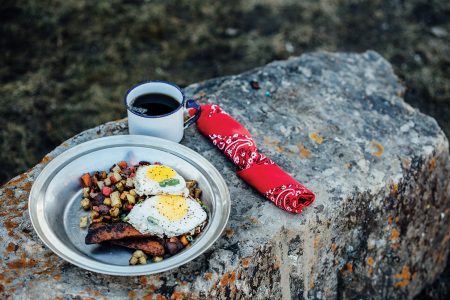 • 2-1/2 lbs mixture of White, Red, and Sweet Potatoes (or Yams) Peeled and Cubed
• 1 lb Thick Bacon
• 1 Large Tart Apple Coarsely Chopped
• 1 Red Pepper, Chopped
• ½ Cup Chopped Sweet Onion or Green Onion
• ½ to 1 teaspoon Ground Cinnamon
• ½ smoked paprika
• 1 teaspoon table salt
• Cayenne Pepper to Taste
• Eggs
• Your Favorite Sausage, we used andouille
Directions
1. In a cast iron skillet, fry your sausage, set aside. Coarsely slice bacon and fry, set aside. Reserve the bacon grease.
2. In the drippings from the bacon, fry your potatoes for a few minutes; add apples and the remaining ingredients. Fry until potatoes are done, but still a little firm.
3. Slice your sausage length-wise, add a little butter to a pan on the fire and fry until done.
4. Fry eggs to your preference. Serve on top of plated hash and sausage.
Rustic Farm Bread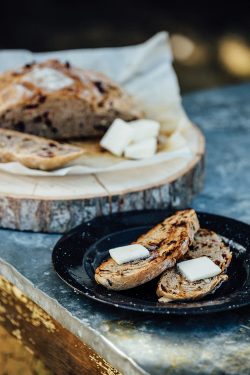 • 2 teaspoon instant yeast
• 1 3/4 cups warm water
• 3 1/4 cups High-Gluten Flour
• ¼ cup Brown Sugar
• 1 cup Whole Wheat Flour
• 2 teaspoons salt
• 3/4 cup dried cranberries
• 1/2 cup golden raisins
• 1 cup coarsely chopped pecans or walnuts
Directions
1. Mix the water, yeast, and sugar together in a large bowl. Stir in the flours and salt with your hand to mix and form a sticky dough.
2. Work the dough just enough to incorporate all the flour, then work in the fruit and nuts.
3. Turn the dough out onto a lightly floured surface, and form it into a round loaf.
4. Place the loaf in the lightly greased Dutch oven. And let rise until double.
5. Place the Dutch oven on top of hot coals, then place coals on top of the Dutch oven. Bake the bread for 45 to 50 minutes, replacing hot coals as necessary. Turn lid every 10 minutes to help brown it evenly.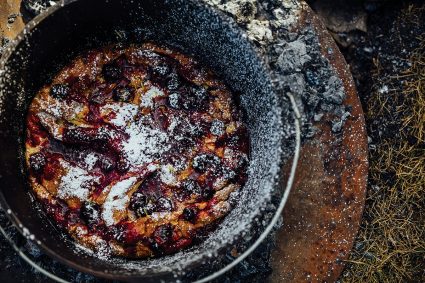 Blueberry Lemon Dutch Oven Dutch Baby
(Yields: 6 servings)
• 4-5 eggs
• ¾ cups milk
• 2 teaspoons vanilla
• zest from one lemon
• 3/4 cups flour
• ¼ teaspoon salt
• 2 cups berries
• powdered sugar
• fresh lemon juice
DIRECTIONS
1. Use a 12 inch (8 quart) Dutch oven.
2. In a large bowl, combine the eggs, milk, vanilla, and lemon zest (this can be done ahead of time). When you're ready to cook, add the flour and salt and whisk together until well blended.
3. Place coals directly under the Dutch oven. Add the butter and allow to melt. Once melted, add the batter to the pot, cover, and add more coals to the top of the oven.
4. Rotate the lid 1/4 turn every 5 minutes and allow the Dutch Baby to cook until set, about 25 minutes. It should puff up all the way to the lid and once the lid is removed it will fall. Remove from heat.
5. Cover with berries, powdered sugar, and a squeeze of lemon. Replace lid and allow the berries to warm before serving. Cut into 6 slices and enjoy!
Cinnamon Rolls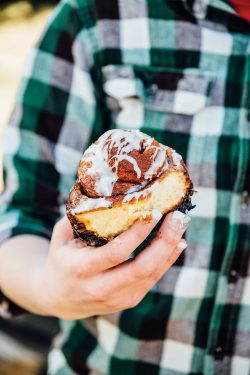 (14" Dutch Oven)
Dough:
• 5-6 cups flour
• 2 Tbs. active dry yeast
• 2/3 cups sugar
• 1 Tbs. salt
• 1 (12 oz.) can evaporated milk, warmed
• 1/2 cup milk, warmed
• 1 egg, beaten
• 1/3 cup butter, melted
Filling:
• ½ cup butter
• 2 cups brown sugar
• 2-3 Tbs. cinnamon
Frosting:
• 1/2 cup butter • 1 (8 oz) pkg. cream cheese, softened
• 4 cups powdered sugar
• 2 tsp. vanilla
For the dough: In a mixing bowl combine 2 cups flour, yeast, sugar and salt; blend well. Mix in the warm evaporated milk and warm milk, egg and melted butter. Mix thoroughly. Mix in remaining flour, 1 cup at a time, until the dough pulls away from the sides of the bowl. Turn out onto a floured surface and knead it for 5 minutes until dough becomes elastic and sticky. Roll dough generously in flour, then cover and place in a warm area to rise until double.
Assembly:
1. Punch the dough down and roll into a rectangle about 9 x 12 inches. Spread soft butter on rolled out dough, cover with brown sugar and sprinkle on the cinnamon. Roll up jellyroll style starting with the long end. Cut into 12, 1 inch rolls. Place rolls in a lightly greased 14" Dutch oven. Cover Dutch oven and let rise 15 minutes.
2. If using briquettes, bake using 10 briquettes on the bottom and 18-20 on top, until rolls are lightly browned. Total baking time will be between 20 and 30 minutes. For even browning rotate the oven and lid every 10.
3. For the frosting, cream butter and cream cheese in a bowl. Gradually add sugar and vanilla; beat well. Spread on warm rolls.
Flaky Buttermilk Biscuits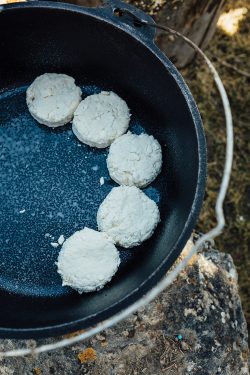 • 4 Cups Flour, plus extra for dusting counter
• 2 Tablespoons Sugar
• 2 Tablespoons Baking Power
• 2 teaspoons Salt
• 1 Cup Cold Butter
• Shortening or Oil for Cooking
DIRECTIONS
1. Measure the flour into a large mixing bowl. Mix in the sugar, baking powder and salt.
2. Using pastry blender, cut butter into flour mixture until the butter is about pea size.
3. Add the buttermilk, stir until just combined.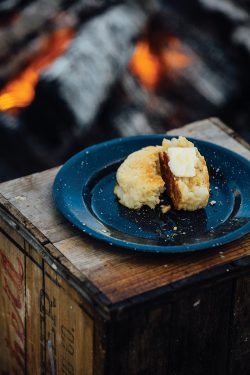 4. Turn onto a lightly floured surface and, using floured fingers, pat to approximately ½" to ¾" thick. Cut out biscuits using a biscuit cutter or a drinking glass.
5. Place each biscuit into the greased 12 inch Dutch oven. Using a fork, immediately turn to coat both sides with shortening.
6. Place the Dutch oven on top of coals, place more coals on the top. Bake until tops of biscuits are golden brown, about 12-18 minutes.
7. Remove from oven. Brush tops with additional melted butter and you can add some honey for a little sweetness. Serve while hot!
Cowboy Coffee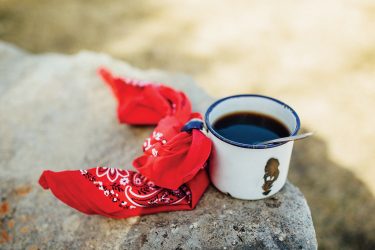 1. For every cup of coffee you want (about 8 ounces), use 2 tablespoons of coarsely ground coffee.
2. Add as many cups of water to the pot as wanted and heat to a boil. This can be done by putting the pot directly in the fire. Once boiled, take off of the fire and let the water settle for 30 seconds before adding coffee.
3. Spoon the grinds directly into the water, bring coffee back to a boil. Take off the fire and let sit for 5 minutes.
4. After 5 minutes of brewing, pour a cup of cold water directly over the top of the coffee to settle the grounds, pour into a coffee cup and enjoy!
Dutch Oven Breakfast Casserole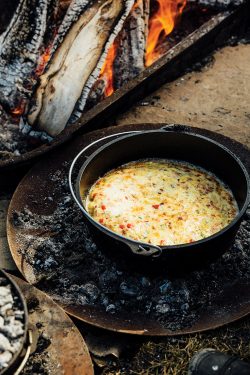 • 18 Eggs
• ½ Cup Sour Cream
• ¼ Cup Cream or Milk
• ¼ Cup Melted Butter
• 1 ½ Cups Shredded Cheese
• 2 Cups Frozen Hash Browns
• 1 ½ tsp. Alpine Touch or 1 tsp. Salt
• ½ Cup Green onions
• 2 Cups Cooked Breakfast Meat (ham, bacon or sausage)
• ½ Cup Chopped colored Peppers
• 2 Cups Shredded Cheese (for the top)
• Salsa
• Sour Cream
Directions
1. Whisk eggs together in a large bowl; add all of the other ingredients.
2. Put in a 12-14 inch Dutch oven. Place Dutch oven on top of a few hot coals, top Dutch oven with more coals. Cook until eggs are set. Top with remaining cheese place lid back on for 5-10 minutes or until cheese is melted.
3. Serve with salsa and sour cream.
Brass Monkey, AKA 'Beermosa'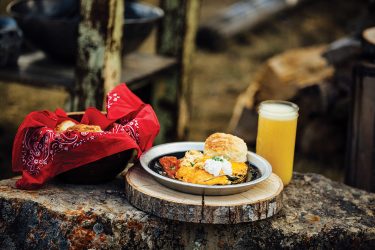 Pour non-pulp orange juice about two fingers width into a glass and then top off with your favorite light beer. CHEERS!