Earthy Tones and Pewter Set the Scene for a Festive,
Yet Non-Traditional Holiday Dinner
Recipes by Chandee Bomgardner | Photography by Sara Young
Staging by Jennifer Moore
Greenery provided by Sally's Flowers and silver candlesticks and creme taper candles from Motfs for the Home.
Despite what holiday is being celebrated, making changes to the traditional family dinner can come with consequences unless the food and the holiday décor completely knock the socks off your guests. Spicing up the arsenal of sentiments and time-honored family recipes demands that modifications be seamless and blend surreptitiously into the highly anticipated and expected elements of the scheme. For this seasonal gathering, SignatureMT's creative director Jennifer Moore and food extraordinaire, Chandee Bumgardner give the boot to tradition and unleash their creative genius with a brilliant alternative to the usual holiday fare. It might just become a new tradition at your holiday table.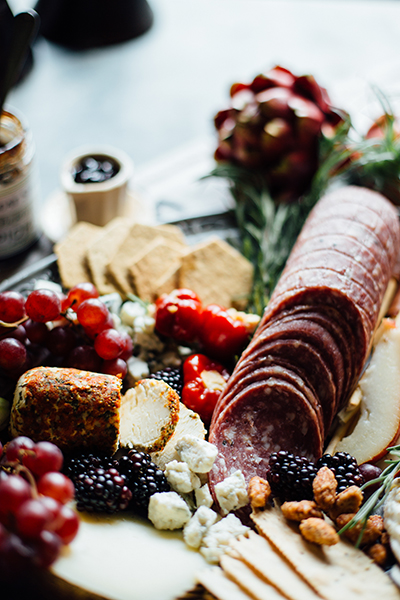 Antipasto Plate
Arguably the easiest and most popular appetizer around, it's as simple as choosing a few different cheeses, meats, adding some fruit, nuts, possibly olives, crackers and calling it a day.
• Cheese: Cheese is at its optimal flavor when served at room temperature. When selecting the cheese to serve, a thoughtful mix is important, there should be a variety of texture between soft, firm, and hard. Flavors should be diverse and can be sweet, spicy, or salty.
• Meat: Meat can be as simple as sliced ham or a little more fun like prosciutto and Italian dry salami.
• Fruit: Select seasonal options in a variety of textures that are easy to eat like grapes, sliced apples, pears, or blackberries. When in season figs are always a nice addition.
• Nuts: Nuts add great texture and can be simply salty cashews, or spice it up a little with Parker's sweet and spicy almonds.
• Extras: Since opposites attract, it's also nice to serve some sweet fruit chutneys or jams as complements to salty cheeses.
• Olives: Where to start? There are so many different kinds of olives, just choose your favorite!
•Crackers/Breads: You'll need a way to eat some of the softer varieties so for a textural mix, it's nice to include hard or crispy items like black pepper water crackers, fig crackers or a crusty baguette.
Set a reminder to pull your cheeses out of the refrigerator an hour or so before you plan on serving it to allow them to adjust. Most importantly have fun and remember there is no right or wrong way to make an Antipasto plate!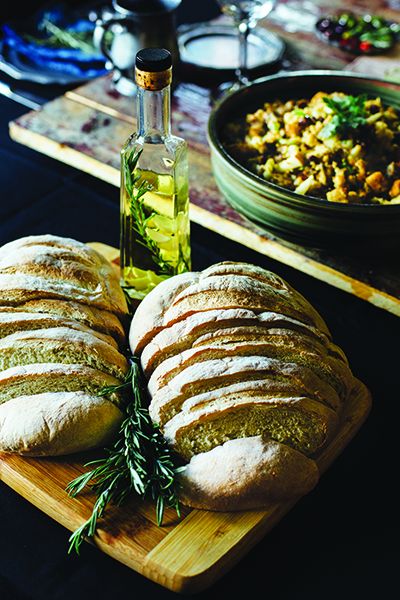 Easy Peesy French Bread
1½ cups warm water
1 tablespoon honey
1 tablespoon Active Dry Yeast
1½ teaspoons salt
3½ – 4½ cups flour
DIRECTIONS
Combine water, honey, salt and yeast. Let sit for 5-10 mins until there is a foam on top. Knead in flour until no longer sticky. Cover with a towel and let it sit for 20 mins. while preheating the oven at 400* Cut slits in the top and bake for 15-20 mins.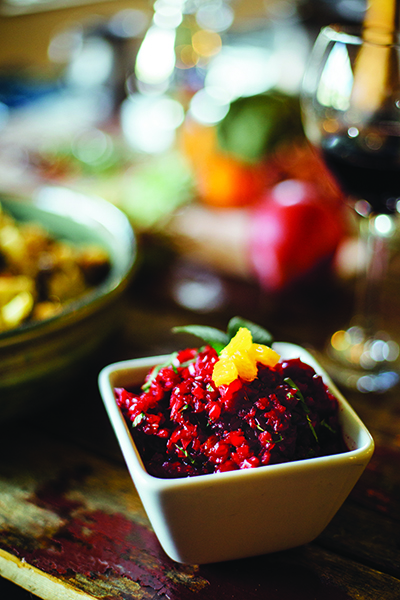 Cranberry Relish with Orange, Lime, and Mint
(Makes about 3 cups)
1 12-ounce bag cranberries
1 orange
1/3 cup sugar
1 tablespoon fresh lime juice
1 teaspoon grated lime zest
¼ cup minced red onion
2 tablespoons minced fresh mint
2 teaspoons minced seeded Serrano chile, Coarse kosher salt, and freshly ground black pepper
DIRECTIONS
Combine the cranberries and sugar in the work bowl of a food processor. Using on/off turns, coarsely chop the cranberries. Transfer the mixture to a medium bowl. Grate the zest from the orange. Add 1 teaspoon orange zest, lime juice, lime zest, onion, mint, and chile to the cranberries. Using a small sharp knife, cut the peel and white pith from the orange. Cut the orange in half, slice crosswise, and then chop into small peces. Add to the cranberries. Mix gently. Season to taste with a little salt and pepper. Cover and refrigerate at least 1 hour before serving. (Can be prepared 3 days ahead.)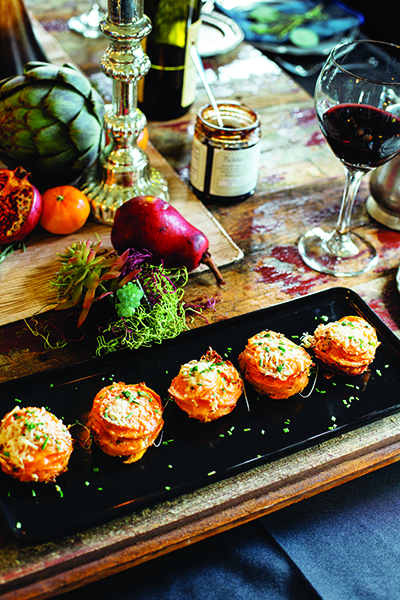 Cornbread Stuffing With Dried Cranberries and Apples
1 batch corn bread cut into ½-in pieces (about 12 cups) See recipe.
4 tbsp. butter or margarine, divided
1 cup diced celery (about 3 to 4 stalks, rinsed, ends trimmed)
1 cup diced onion (about 1 medium onion, peeled, in ¼-in dice)
1 tbsp. each fresh parsley, sage and thyme, leaves only, finely chopped
1 tsp salt
1 tsp ground black pepper
1 cup dried cranberries
2 diced apples (granny smith)
3 cups chicken broth
2 eggs, lightly beaten
1 lb. spicy sausage (cooked and crumbled)
DIRECTIONS
Preheat oven to 325 degrees F. Scatter cut cornbread onto 2 large baking sheets; do not overcrowd. Bake for 25 to 30 minutes until completely dried, crisp and lightly toasted. Place on rack to cool completely. Spray a 9-by-12-by-2-inch baking dish liberally with cooking spray. Set aside.
In an 8- to 10-inch skillet melt butter over medium-high heat. Add diced celery and onion. Reduce heat to medium and cook, stirring occasionally, until celery and onion are tender and onion is translucent, about 3-5minutes.
In a very large bowl add toasted cornbread, celery and onion, finely chopped herbs, salt, pepper, dried cranberries, chopped apples and cooked sausage . Mix gently with a rubber spatula or large spoon to combine. Add chicken broth and beaten eggs. Stir gently just until blended. (Cornbread will break up a bit.) Pour mixture into baking dish.
Preheat oven to 350 degrees F. Bake covered with aluminum foil for 30 minutes. Remove foil and finish baking uncovered just until top begins to turn light golden brown, about 15 minutes. Serve right away or cool and store.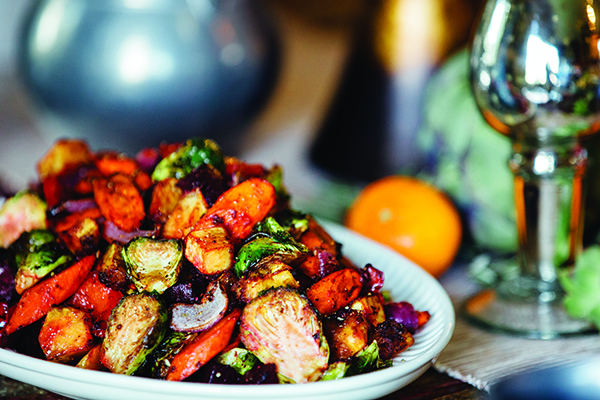 Sweet Potato Stackers
2 tbls. butter, melted
2 tbls. coconut oil, melted
2 heavy whipping cream
2 grated tbls. parmesan cheese, plus extra for garnish
1 tsp fresh rosemary, chopped, plus extra for garnish
Sea salt and pepper to taste
2-3 large sweet potatoes or yams, thinly sliced
DIRECTIONS
Preheat oven to 350 degrees. Spray 12 muffin cups with nonstick cooking spray.
In a large bowl whisk together butter, coconut oil, whipping cream, parmesan, chopped rosemary, salt, and pepper. Add sweet potatoes and toss to coat evenly. Layer potato slices into muffin pan and fill to the top. They will shrink down once they are cooking. Cover with foil and bake for about 45-50 minutes or until edges and tops are golden brown and center is tender. Remove from oven and sprinkle with additional parmesan cheese. Bake an additional 5 minutes or until cheese is melted. Let cool for about 5 minutes and carefully remove with a spoon. Place on serving tray and fresh chopped fresh rosemary. Serve immediately.
Roasted Vegetables W/ Balsamic Reduction
½ lb. brussels sprouts, halved
½ lb. cut carrots
½ lb. halved small new potatoes (white or purple)
½ lb. cooked beets
2 large shallots, quartered
3 tbsp. olive oil
¾ tsp kosher salt
½ tsp ground black pepper
2 tbsp. reduced balsamic
DIRECTIONS
Preheat oven to 425°. Line a baking sheet with aluminum foil or use a Silpat silicone baking mat. In a large bowl, toss brussels sprouts, carrots, potatoes and shallots with 2 tablespoons of olive oil, kosher salt and freshly cracked black pepper to coat thoroughly.
Transfer the vegetables to baking sheet and roast until tender and caramelized, about 30 minutes. Place roasted vegetables back in bowl. Add remaining tablespoon olive oil, and balsamic syrup and toss to coat evenly. Taste and season with kosher salt and more pepper if necessary and serve.
Wilted Swiss Chard with Bacon, Pomegranate and Balsamic Vinaigrette
6 cups chopped Swiss chard
2 slices bacon, cut into 1/4-inch pieces
1 tablespoon extra-virgin olive oil
1/2 cup julienned red onion
2 tsp. brown sugar
2 tbls. good-quality balsamic
DIRECTIONS
In a small frying pan over medium heat, fry bacon approximately 5 minutes or until crisp; transfer the cooked bacon with a slotted spoon to paper towel-lined plate; set aside.
Leaving approximately 2 tablespoons of bacon fat in the pan.
When bacon has cooled, crumble it into small pieces and then set aside. Return frying pan to medium heat; add olive oil, salt, pepper, and sugar. Cook 2 to 3 minutes, stirring occasionally. Add balsamic vinegar; swirl to incorporate. Remove from heat. Pour warm dressing over prepared spinach and toss gently to wilt.
Sprinkle the crumbled bacon and pomegranates over the top of the spinach and serve immediately.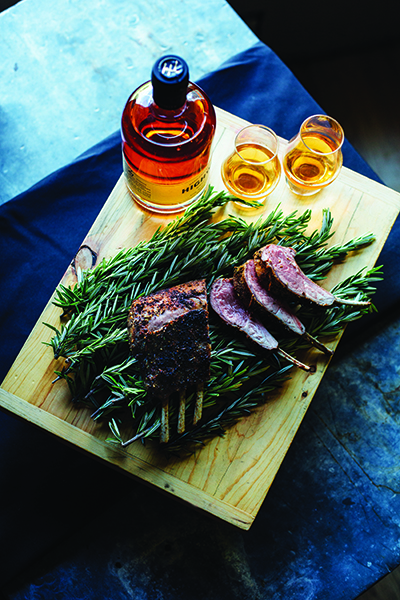 Classic Rack of Lamb
For each rib rack:
2 teaspoons chopped fresh rosemary
1 teaspoon chopped fresh thyme
2 cloves garlic, minced
Salt and Pepper and 2 Tbsp olive oil
DIRECTIONS
Marinate lamb all over with mixture of rosemary, thyme, and garlic. Sprinkle with freshly ground black pepper. Place in a thick plastic bag with olive oil. Spread oil around so that it coats the lamb rack(s) all over. Squeeze out as much air as you can from the bag and seal. Place in a container so that if the bag leaks, the container catches the leak. If you are not marinating overnight, let lamb rack(s) sit in the rub marinade as it comes to room temperature before cooking. Remove lamb rack from refrigerator to 1 1/2 to 2 hours before you cook it so that it comes to room temp. (If the meat is not at room temperature it will be hard for it to cook evenly.)
Preheat oven to 450°F
Score the fat by making sharp shallow cuts through the fat, spaced about an inch apart. , sprinkle with salt and pepper, wrap bones in foil, place in pan fat side up.
Sprinkle the rack all over with salt and pepper. Place the lamb rack bone side down (fat side up) on the pan. Wrap the exposed ribs in a little foil so that they don't burn. Roast first at high heat to brown, then reduce heat to finish: Place the roast in the oven roast at 450°F for 10 minutes (longer if roasting more than one rack), or until the surface of the roast is nicely browned. Then lower the heat to 300°F. Cook for 10-20 minutes longer (depending on the size of the lamb rack, if you are roasting more than one rack, and how rare or well done you want your lamb), until a meat thermometer inserted into the thickest part of the meat 125°F on a for rare or 135°F for medium rare. Remove from oven, cover with foil and let rest for 15 minutes.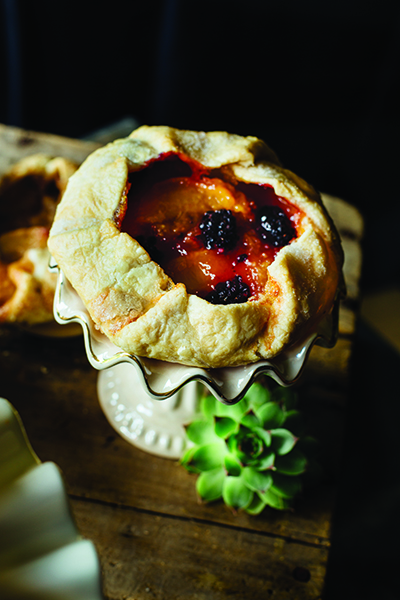 Peach Blackberry Galette
1 pie crust
2 large peaches, peeled and sliced
½ cup blackberries
2 tbls white sugar
2 tbls corn starch
¼ tsp cinnamon or ¼ tsp almond extract
1 tsp lemon juice
Preheat oven to 350 degrees.
Peel, and slice peaches into ¼ inch slices.
In a large bowl, mix sugar, corn starch, cinnamon (if using), and mix to combine. Add peaches, blackberries, and lemon juice, mix together until the peaches and blackberries are covered, Split pie crust in half; roll out each pie crust onto a very lightly greased baking sheet. Arrange ½ of the peach mixture in the center of each rolled out crust. Leave 2 inches of crust around the outside for folding in the next step.
Fold the sides inward, working your way around the galette and overlapping slightly. Brush the crust with an egg wash and sprinkle a little sugar. Bake for 30 minutes.
Apple Galette
1 pie crust
2 apples (1 granny smith, and 1 honey crisp)
2 tbls brown sugar
2 tbls white sugar
2 tbls flour
¼ tsp cinnamon
1 tsp lemon juice
1 tbls water
DIRECTIONS
Preheat oven to 350 degrees.
Peel, core, and slice your apples in thin slices.
In a large bowl, mix sugar, flour, cinnamon, and mix to combine. Add apples,water, and lemon juice, toss until the apples are covered in the mixture. Split pie crust in half; roll out each pie crust onto a very lightly greased baking sheet. Arrange ½ of the apple mixture in the center of each rolled out crust. Leave 2 inches of crust around the outside for folding in the next step.
Fold the sides inward, working your way around the galette and overlapping slightly. Brush the crust with an egg wash and sprinkle a little sugar. Bake for 30 minutes.
Chocolate Whisky Whipped Cream
1 cup cold heavy whipping cream
2 tablespoons sugar
1-2 teaspoon Highwood Chocolate Flavored Whisky
DIRECTIONS
Place mixer bowl and whisk in freezer for at least 20 minutes to chill.
Pour heavy whipping cream, sugar and vanilla into the cold bowl and whisk on high speed until medium to stiff peaks form, about 1 minute. Do not over beat.