Char and Charm, A Rich History Flirting with Modernity
Text by Colter Pederse | Photography by Jacqui Smith
Beyond Last Chance Gulch, just past the oldest alley in Helena, lies a little restaurant offering Mediterranean flavors infused with a modern flair. Open only since June, Trattoria Bella Roma brings a distinctly Old World menu to Montana.
"My food style is Roman cuisine. It's very rustic, warm comfort food," begins chef Davide Giuliani. Born and raised in Rome, he radiates an easy Italian charm and a youthful energy.
"I'm trying to recreate those flavors that I grew up with from cooking and learning from my grandma and putting my own twist on it, my own heart and soul in it," he adds. "I want people to really experience what it was like growing up with that kind of food."
Whether it's a jazz night and the tables are set up communally or perhaps a birthday or anniversary, as manager Michelle Montanti puts it, almost everyone here is celebrating something, every night seems special.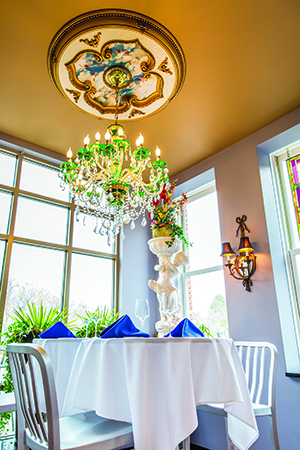 "I think Bella Roma has so much charm to it," says Michelle. From the classical white stone sculptures to the vibrant green flora, charm comes to mind again and again. You might even guess that the name translates to it, though a trattoria is actually a casual country style café in Italy with a limited menu of traditional fare.
Equal parts entertainment and exquisite dining, an evening spent here is more a memory than a meal as dinner develops slowly over drinks and four courses. And the modest menu changes every three to four weeks to keep things fresh.
The Bruschetta Alla Parmigiana, homemade rustic bread, grilled and topped with eggplant, fresh basil, a slightly tart tomato sauce and pistachio pesto, is a true taste of Italy. Based on a recipe his grandmother made, the eggplant is salted and pressed overnight to remove the moisture then dusted with flour, lightly fried in butter, topped with tomato sauce and baked in the oven. Finished with thinly shaved Parmigiano Reggiano (aged 36 months), the sharp and nutty cheese, adds a pungent, peppery bite.
Traditionally eaten with your hands, the crunch is incredible. So many flavors come together as the tender eggplant gives way to the hearty, charred bread beneath. It's texture perfection.
The next stop on the char train comes as a warm surprise of a salad. The Insalata Di Cesare Grigliata is the elevated Caesar that you never knew you wanted.
Served as a whole romaine heart, straight off the grill, it's drizzled in a rich housemade dressing with capers and parsley. A squirt of lemon juice adds brightness and the fresh cracked pepper brings it all to life while a little more Parmigiano Reggiano subtly reminds you of what came before.
But the char is the star, making magic in your mouth so you don't just taste it on your tongue but with all of your olfactory senses. It's rich and bold, yet impossibly light. "The char on that romaine just really brings those flavors to a different dimension," says Davide. "People are just in love with it."
The next course, Lasagna Di Carne, is disarmingly delicate with layer after layer of incredibly thin pasta sheets, tomatoey meat ragu, creamy béchamel sauce, herby olive oil and tons of grated Pecorino Romano and Parmigiano Reggiano cheese.
"It takes a long time, a lot of love, but that's how my grandma made lasagna," says Davide. "It's hard to find a dish like that, even in Rome because people don't have time to do it, so it's very special."
He is passionate about all his food, and dessert is no different, but he especially lights up when he talks Tiramisu. "It's just my favorite dessert to make," he says beaming. He soaks Savoiardi cookies in espresso and coffee liqueur then layers them with a mascarpone and zabaione cream.
Dusted with cocoa, it's a creamy, lightly sweet, decadent dessert. The rich espresso, moist, fluffy cookie and hint of spice work well with any last sips of wine. Save the raspberries till the very end to finish with the perfect bite.
Slowdown, find something to celebrate and spend an evening at the Trattoria.
It's like a microcosm of Montana itself, a rich history flirting with modernity.