The Big Sky Saddle Club Summer Events Provide a Timed Sport Event for Western riders
Written by Polly Kolstad • Photography by Sara Young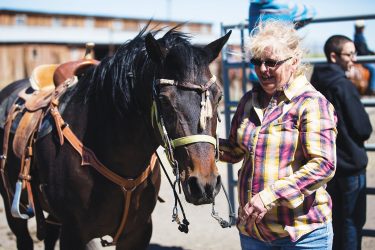 For twelve years, the blistering fast pace of O-Mok-See, a colorful event on horseback, has caught up with Linda Andrews.
"Participating in O-Mok-See is my reward. I started after I had cancer surgery, and survived. My horse is twenty-three and still 'rockin' it."
O-Mok-See is a Blackfeet Indian word meaning: "riding big dance." To the saddle clubs across Montana, O-Mok-See has become a timed event sport for western riders who race four at a time against each other as the clock tests their speed and skill.
In Montana, this summer, there will be an O-Mok-See event most weekends inviting families who ride at any skill level to join.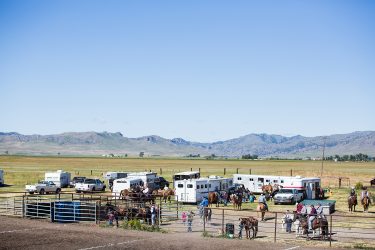 Expecting one hundred riders, the local Big Sky Saddle Club will sponsor the District O-Mok-See Fun Day in the Cascade Arena, June 11 and June 12. They will hold another O-Mok-See event June 18 and June 19.
O-Mok-See events and saddle clubs have a long history in Montana. The oldest incorporated saddle club in Montana, the Helena Trail Riders (HTR) was organized in 1938 by cowboy artist, Shorty Shope. In 1944, they originated the sport of O-Mok-See. In the intervening decades, O-Mok-See became a national event (1965) under Keith Herrin, the national founder from Helena.
The Montana Saddle Club Association (MSCA) promotes the sport and has adopted a set of patterned horse racing events for local, state, and national competition.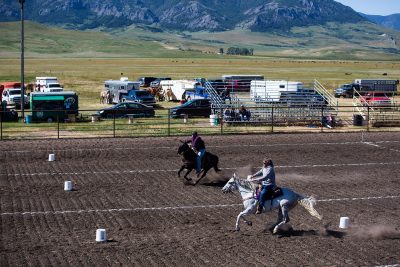 All events are run in thirty foot lanes with four lanes in the arena. At the end of the lane is the turning line. Most events involve a "property." Property refers to any item used during an O-Mok-See event: barrels, poles, flags, etc. The MSCA approves fifty-six races for year round O-Mok-See competitions which include riding indoors in the winter.
The fun and enjoyment of reins and riders in the intense games leaves one exhilarated.
"Going 40 mph on a horse feels more like 90," recalls Bobbie Shular, who started participating in O-Mok-See twenty-five years ago with her aunt in Cut Bank.
Geared up in boots and fancy western belts, kids do rodeo in high school and O-Mok-Sees on their own horses which take two to three years to be trained.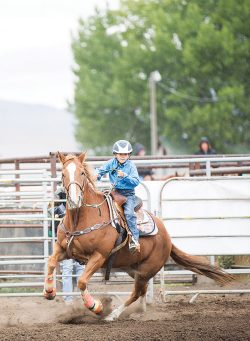 For all their racing appeal, they continue to refresh and condition the horses to have finesse, technique, and rider partnership. The only rule: people of the same age, in the same event, can't use the same horse.
Increasingly, from an early age, O-Mok-See participants agree that the roster of games takes a pretty good set of riding skills which they love and work at with the safety precaution of sporting helmets and some body armor.
Racing to be in the competitions includes family members. "Kids from age 4 – 5 have confidence," continues Shular, "they walk with the horse and are led." "From ages 5 – 8, they switch horses and scare everyone."
Not long ago, Miranda Shular, a Great Falls Charles M. Russell senior, won the flag race on her "appi" (appalousa) in 9.8 seconds.
But, her favorite event is the barrel stakes. In her O-Mok-See quest, she has won shows in Montana, been to nationals, and won two saddles.
"Horse events are my interest," she says, "I have friends around the state."
Her sister, Reann, is the reigning 12 – 15 age national champion, and is always her partner.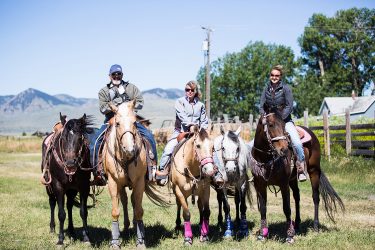 All aboard their performance horses, the McGowan family typically spends the summer in riding competitions.
Speaking for himself, Durham McGowan, age 7, has been in O-Mok-See events since "birth" and has already won many belt buckles, and ribbons.
Proudly wearing one of those winning buckles, he notes, "I also ride bulls."
At age 14, Destrie McGowan, has been riding since she was two. She likes to ride Dusty, a Welch quarter horse pony with her friends, however, she admits, "it is a little scary when she rears; she's hot."
Dallya McGowan, has been on Didget, her bay quarter horse for five years. "Didget is fast, and a champion," she says.
Dallya and her father, Huck McGowan, ride the same horse. "Dad goes faster and I'm also lighter. I'm good as long as I can stop."
This year, the fifty-first anniversary of the national competition, will be held (one week long) in Blackfoot, Idaho. Everyone camps, or sleeps in their horse trailer. The go-to-strategy becomes a social event for riders and horses, with a lot of friendly competition vying for the coveted silver belt buckles and fancy saddles- all reining in for the winners.
What is O-mok-see: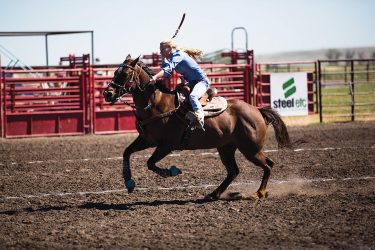 The most colorful performance on horseback of the Blackfeet Indian Tribe was the oh-mak-see pass-kan meaning riding big dance.
The second syllable of the first word is pronounced like our English word mock. The last syllable of the second word is sounded like our can. The Blackfeet had no written language; all we can do is render the sounds. There is no incorrect spelling, so long as the sound is correctly presented. One might even desire to leave the second word (meaning dance) off entirely, and simply make it o-mok-see – riding big.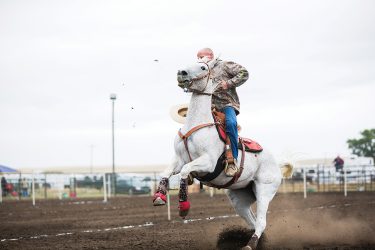 The Blackfeet riding big dance was not celebrated for some fifty years. All the old people remember it as a very striking performance. It was principally a war ceremony. Before setting out on a mounted expedition against the enemy, the warriors of the camp performed this dance as a part of the prelude of stirring up courage and enthusiasm for battle. The warriors put on their finest dress costumes, decorated and painted their best horses, carrying their war bundles, shields, lances and bonnets. They mounted and gathered at some distance out of sight of the camp. They turned and rode together at full speed into the great camp circle, circled around it once and then rode to the center of the camp. In the center were a number of old men and women who sang special songs and beat drums for the horsemen. The horsemen then rode their trained horses to the rhythm of the singers and drummers. from time to time the riders dismounted and danced about on foot beside their horses, shooting in the air and shouting to one another to be brave when the battle came. If anyone fell from his horse during the ceremony it was considered bad luck would follow.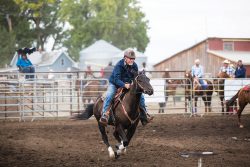 O-Mok-See is more descriptive and more Western American than other names used for the sport of pattern horse racing. O-Mok-See found its way into our western riding vocabulary in the same manner as the Spanish-American word rodeo. O-Mok-See, historically speaking, was coined by people who were living here long before the Spaniards arrived with rodeo. This just comes from the national site. And mostly this is what we use to describe omoksee.