Great Falls BMX/Skatepark Draws Riders from All Over the U.S.
Text and photography by Shane Klippenes
Nick Hart is the dad everyone on your block wishes they had growing up. A kid at heart, he's always looking for ways to connect with his four children (replacing their backyard with a BMX track and covering the driveway with a half-pipe ramp), include the neighbors in his craziness, and engage those who don't have the same opportunities. Skating, surfing, freestyle and BMX bike riding, and ministering to the homeless energize Nick and his family, and are staples of their daily lives in Santa Cruz, CA.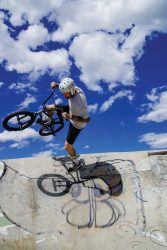 Last year, Nick told a veteran skater that he planned to vacation in Montana and was shocked when he enthusiastically exclaimed, "Then you have to ride The Railyard in Great Falls! It's sick, and better than anything we have here!"
While not generally considered an extreme sports destination, Great Falls, Montana is home to the Riverside Railyard, a healthy crop of local riders that hosts a growing number of out-of-staters on Montana Skating Safaris.
Tim Altic, the owner of Alltech Skateparks Inc. and mastermind behind the Railyard project, designed the park so beginners and competition skaters alike could challenge themselves with the varied skating terrain. "The Riverside Railyards 27,000 square feet land it in the top 20 largest skate parks in the country. It is widely considered one of the top five skate parks in the Pacific Northwest."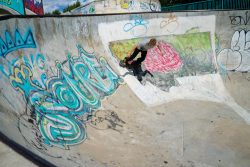 Broken down evenly into street, bowls (5, 8, and 9 feet deep), banks and ledges, the Riverside Railyard provides options for the youngest grommets alongside extreme sports stars like skateboarding pioneer Tony Hawk. He and his crew rode the Railyard during a recent surprise visit and said that skating the gap between bowls was challenging. "It was the fastest I ever had to set up for any gap or trick… in order to land it clean."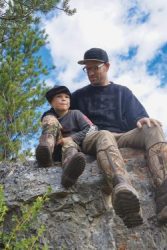 After exploring traditional Montana vacation destinations, Nick and his son, Cade were stoked to get their shot at riding in Great Falls, and were not disappointed.
"The Riverside Railyard was everything I had read about and more," Nick said. "I knew it was going to flow well, I knew it was going to have something for everyone, but what I wasn't expecting was how kind the local groms were. Back home in Santa Cruz the vibe at skate parks can be pretty gnarly and, unless you're local, you're often not welcomed. But the groms in Great Falls were so kind and cool to my son and me. It stoked us out to be treated so well in a place we knew little about."
So, if you're looking for a place to try your luck and/or skills at skating and riding, there's no need to replace your driveway with a half pipe. Instead, join the fun at the Riverside Railyard. Like Nick, Cade and Tony, you'll be glad you did.