Facial Art: For Health & Heart
Text by Mary Ellen Hendrickson • Photography by Sara Young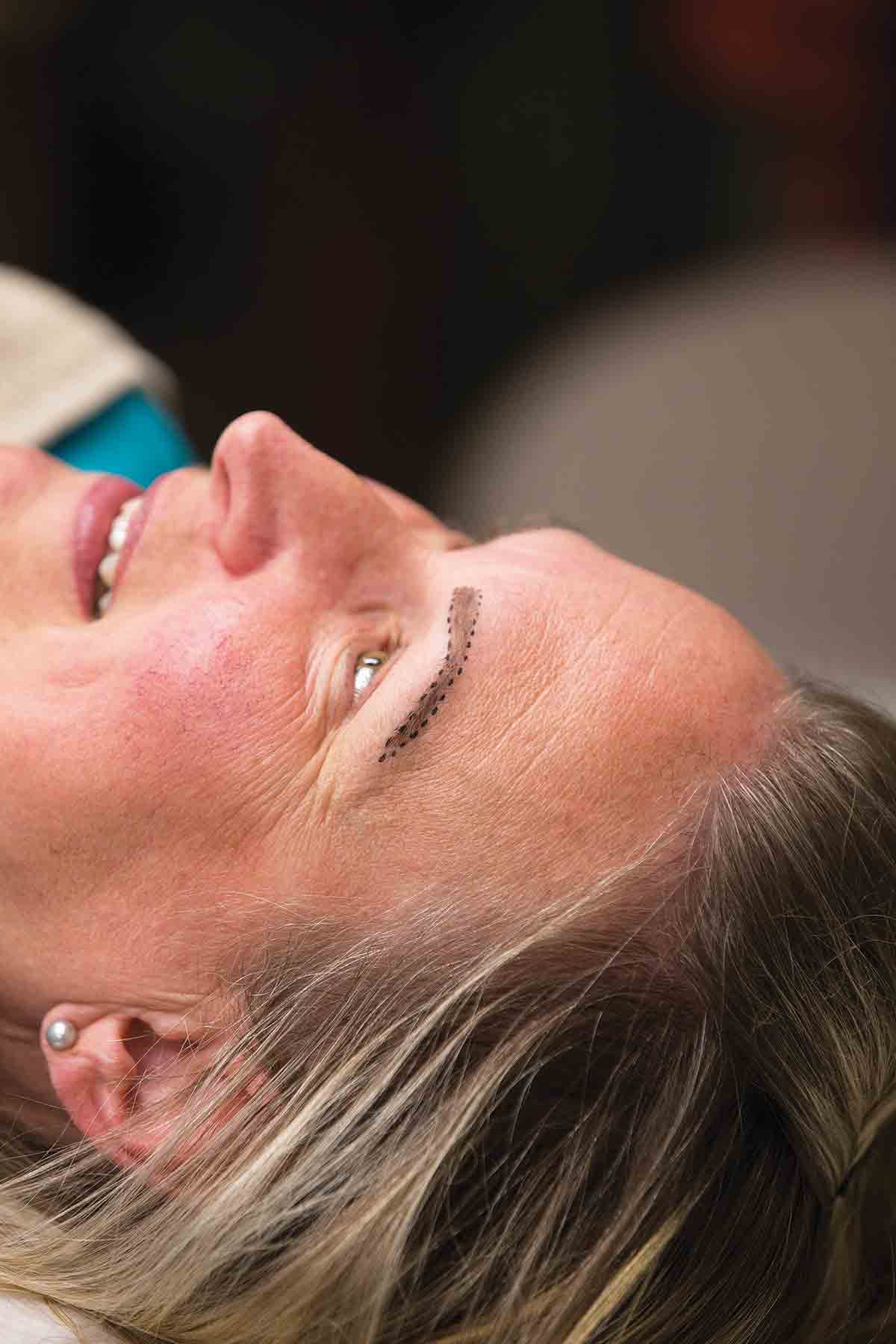 We might think of our face as our "self" or at least a large part of our identity.  Whether it's a "selfie", a mug shot, a celebrity pose, an image caught on video or a look into a mirror, what we see often determines how we think of our "self."
Or not.   What if a visual impairment prevented us from seeing our face clearly, if at all?  What if a physical impairment, accident or injury affected our mobility, not to mention the ability to hold things, such as the delicate items involved in applying makeup.
While surgeries and other procedures are options, and at times, necessities, for facial enhancement, the art of facial cosmetic tattooing is gaining in popularity around the world, and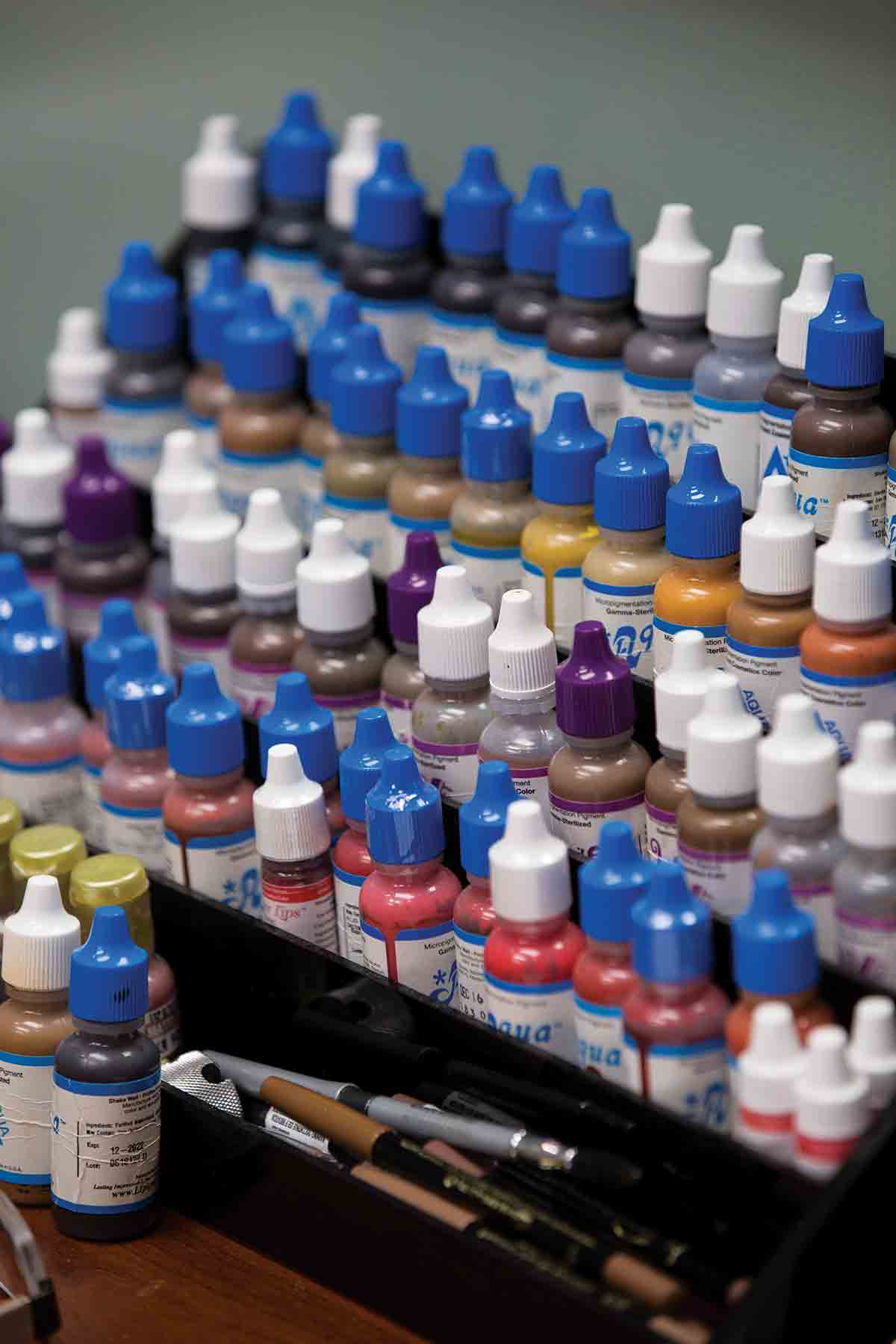 with it, an increased recognition of the health considerations involved, from the procedures used by the technicians, to the commitment to post-tattooing self-care on the part of the client.
Tippy Burtch, owner of a bar in Cut Bank, Montana, shared her concerns, typical of those prompting men and women choosing to opt for cosmetic tattooing.
"I was 59, my eyebrows had just disappeared and my eyeliner would seem to melt off.  I had no lip color."
Burtch sought the skills of Shelley Turk, a cosmetic tattoo technician and owner of "Beyond Beauty" in Great Falls. "It used to take like 45 minutes to get makeup on," she says, noting, "It takes me 10 to 15 minutes now.  I think it has improved my looks, and my friends and husband are quite impressed."
Burtch echoes comments made by a number of individuals who describe themselves as, "tattoo addicts."
"It is relaxing and a great experience," she says.  "Shelley has great music on, she is very personable, friendly and very honest about what would look good."
Great Falls resident, Dale Perchert, 57, figures he has, "about twenty tattoos," and says he's, "been accused of being an addict."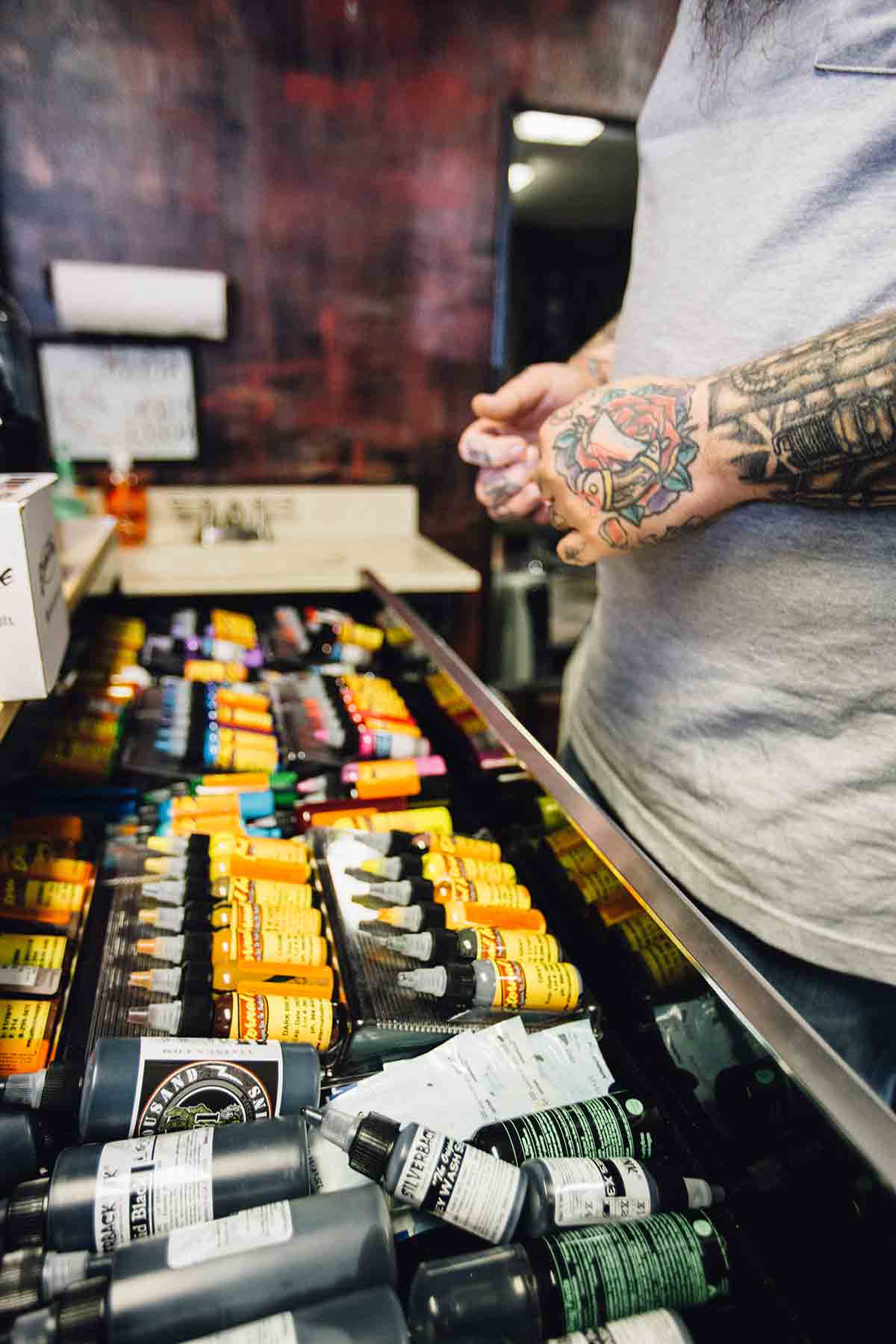 "It's artwork.  It's self-expression," says Perchert of his body art.   "A good artist tries to prepare you, tell you to try not to move.  It sort of lulls you into calm.  Spending time with the artist, for hours, is like therapy."
In addition to ambience, other similarities connect cosmetic tattooing with traditional body art work, including difficulties with corrections and removals.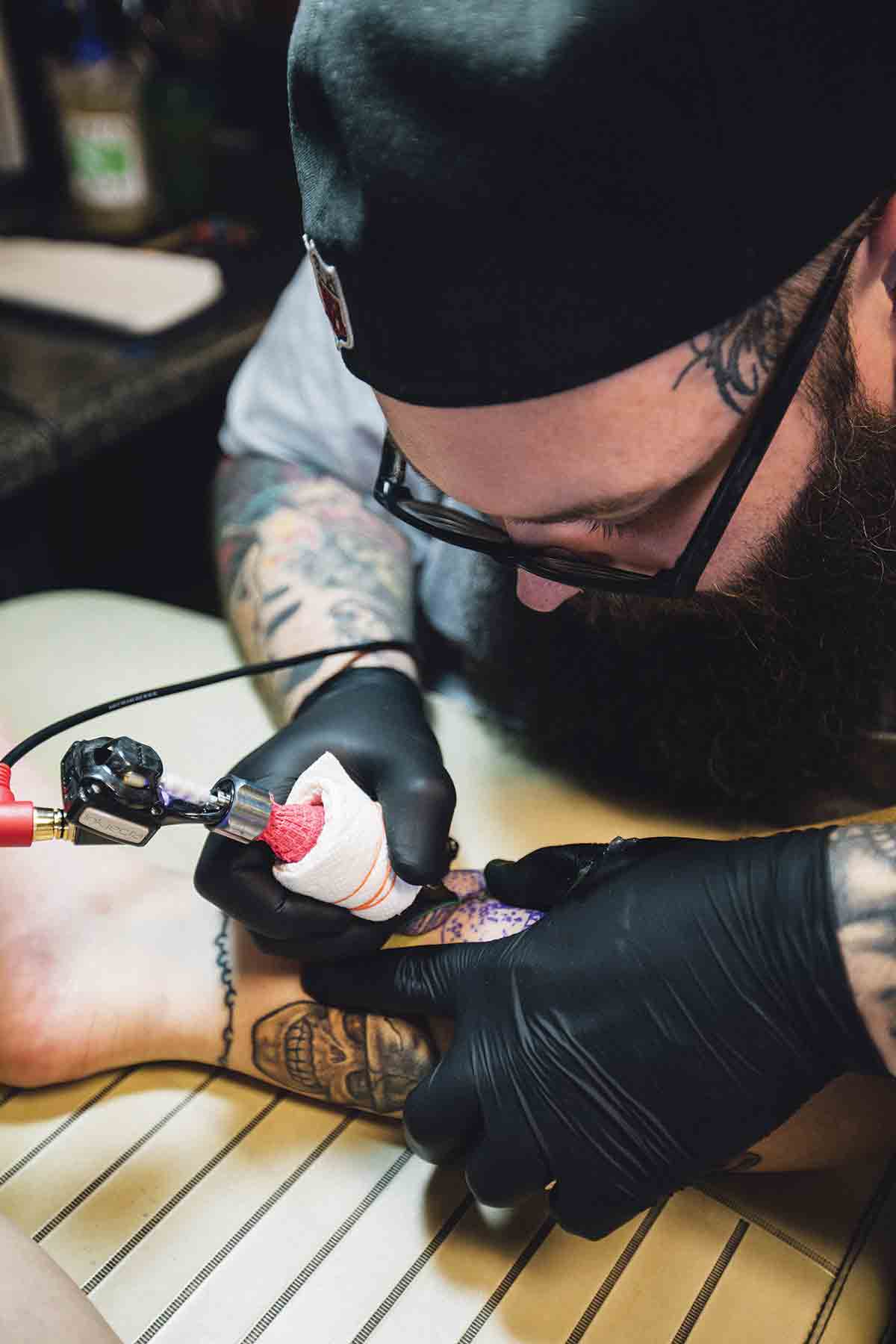 "All tattooing requires health precautions to promote good healing," says Jake Carr, tattoo artist at "The Last Best Place Tattoo Shop," in Great Falls.   "Sterility is the main thing," he says, noting that all city tattoo artists and shops must adhere to the licensing requirements and inspections posed by the state and local health departments.
Carr counts himself among other local tattoo artists who view cosmetic tattooing with something akin to reverence.
"With the whole cosmetic thing, looking at a person, you wouldn't know if it was done or not."  He cites his grandmother, a Florida resident, who has given him a bit of grief about his work as a tattoo artist.  "She still thinks this work is for convicts or murderers," he quips, adding that she's had no reluctance in getting eyebrow and eyeliner tattoos done.
The increasing popularity of cosmetic tattooing seems to be taking the "taboo" out of getting a tattoo.
"It's more popular today," says Tina Brataan, owner of "Mystic Rhythms' Tattoo Shop" for the past 18 years.  "Years ago, it was because you were a bit of a rebel.  Now we tattoo lawyers, nurses and even sleeved-out a Greek Orthodox minister years ago."
"Every artist has their specialty," says Brataan, "and they have to make you feel that they're as excited about your choice of design as you are.  Most consider their best "payment" is knowing their work and service makes you happy."
"You do need to possess artistry for facial tattooing," says Turk, adding, "If you cannot draw an eyebrow you shouldn't try to tattoo one."
"When skin is your canvas," she says, "this work is a huge responsibility!  It's very important to make wise choices.  It's not about bargain shopping." Turk emphasizes, "Cosmetic facial tattooing, when done correctly, does not hurt. Unlike traditional body tattoos, topical numbing products are used for facial tattoos."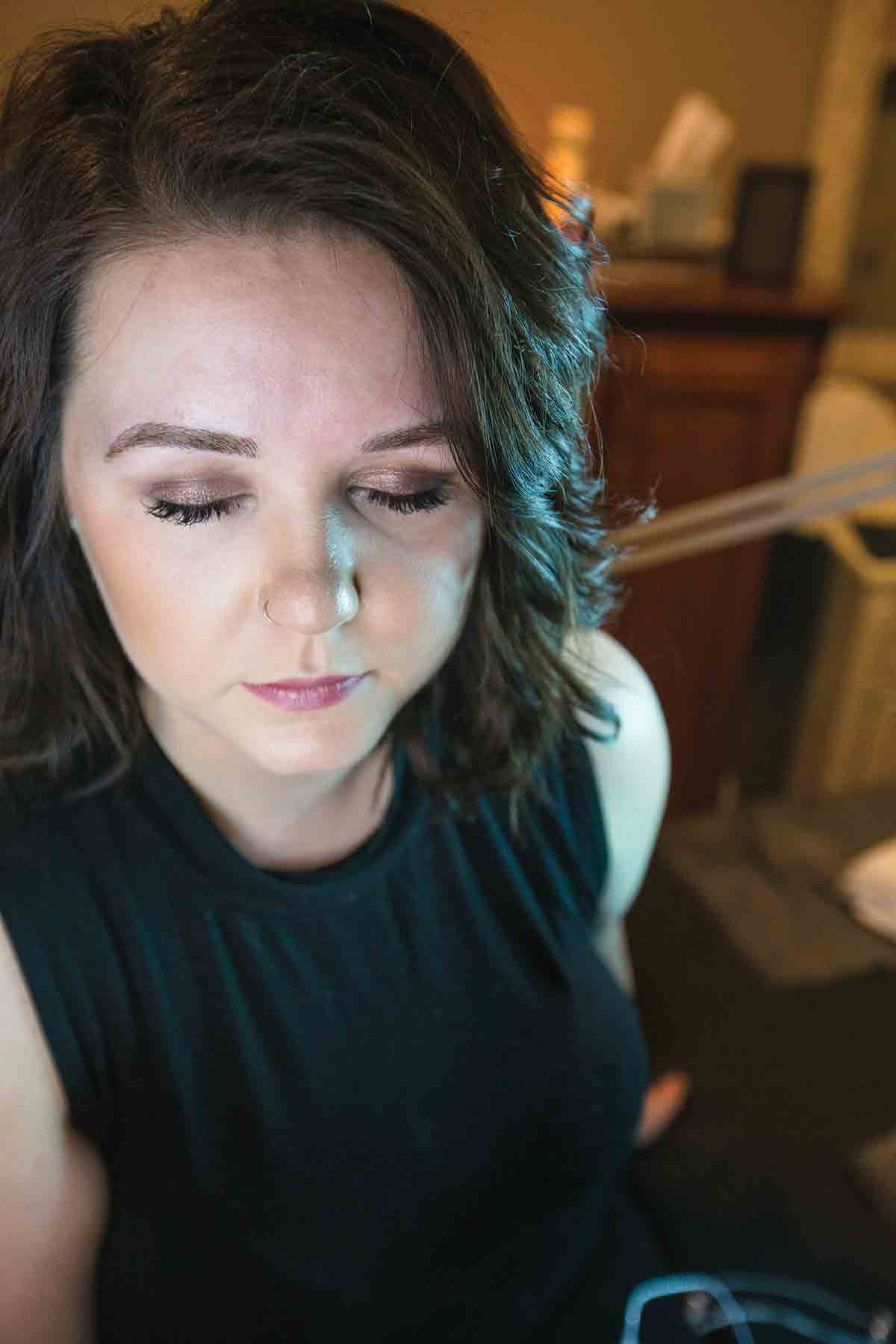 With facial tattooing there is less room for error.  "It's your FACE!" exclaims Lisa McNabb, cosmetic tattooist from Bozeman.  "Brows are 'sisters not twins'," she says.  "The face is NOT symmetrical."
McNabb hosts trainers from, "all over the world," via live classes and webinars.  "Europe is so far ahead of us," she notes.  "They do such beautiful work!
Turk says she's attended a number of McNabb's trainings.  With costs ranging, "from $2,000 to $5,000 per workshop, with trainers from Hong Kong and the UK," technicians must be willing to invest in their work.
She notes that while current state and local regulations address health related concerns, and artists, shops and technicians do give concise health-related handout instructions to clients, regulators do not address skill levels.
The Society of Permanent Cosmetic Professionals (SPCP. Org., founded in 1990) website provides helpful 
information with services such as scar and beauty mark camouflage, areola repigmentation, eyebrow, eyeliner, lip color, and hair imitation.  "Some procedures," state the SPCP website, use advanced, "para-medical techniques," and require experienced technicians with advanced training."
Lindsey Murolo, Tattoo Removal and Facial Specialist with the Laser Clinic/ Associated Dermatology in Helena, provides laser services for facial or cosmetic tattoo removal.  Murolo says, "these can be difficult to treat because sometimes ink can oxidize and turn green."
"Patients need to be patient with the process because it takes at least 8 to 15 treatments, if not more," she says, adding that costs vary because, "every tattoo varies," and are based on the square inch. 
Murolo is very thorough during the initial "gratis consultation" and ongoing appointments with regard to care, precautions and procedural explanations.
Aimee Lennox, Certified Microblade Artist with Studio Montage in Great Falls shares perspectives from her service providing microblade cosmetic tattooing: "The most important things about microblading are that it is a SEMI-permanent service. It is not the commitment of a true tattoo or cosmetic tattoo that can last a lifetime. Microblading will fade from your skin in 1-3 years. Because it is only in the outermost layers of your skin it does not bleed or blur like a tattoo."
"It is ideal," she says, "for anyone who wants to fill in sparse or no brows, add a more defined shape, thicken, lengthen, or darken the look of their brows."
Lennox explains that, "Microblading is a 2 step process. It cannot be done in only one appointment.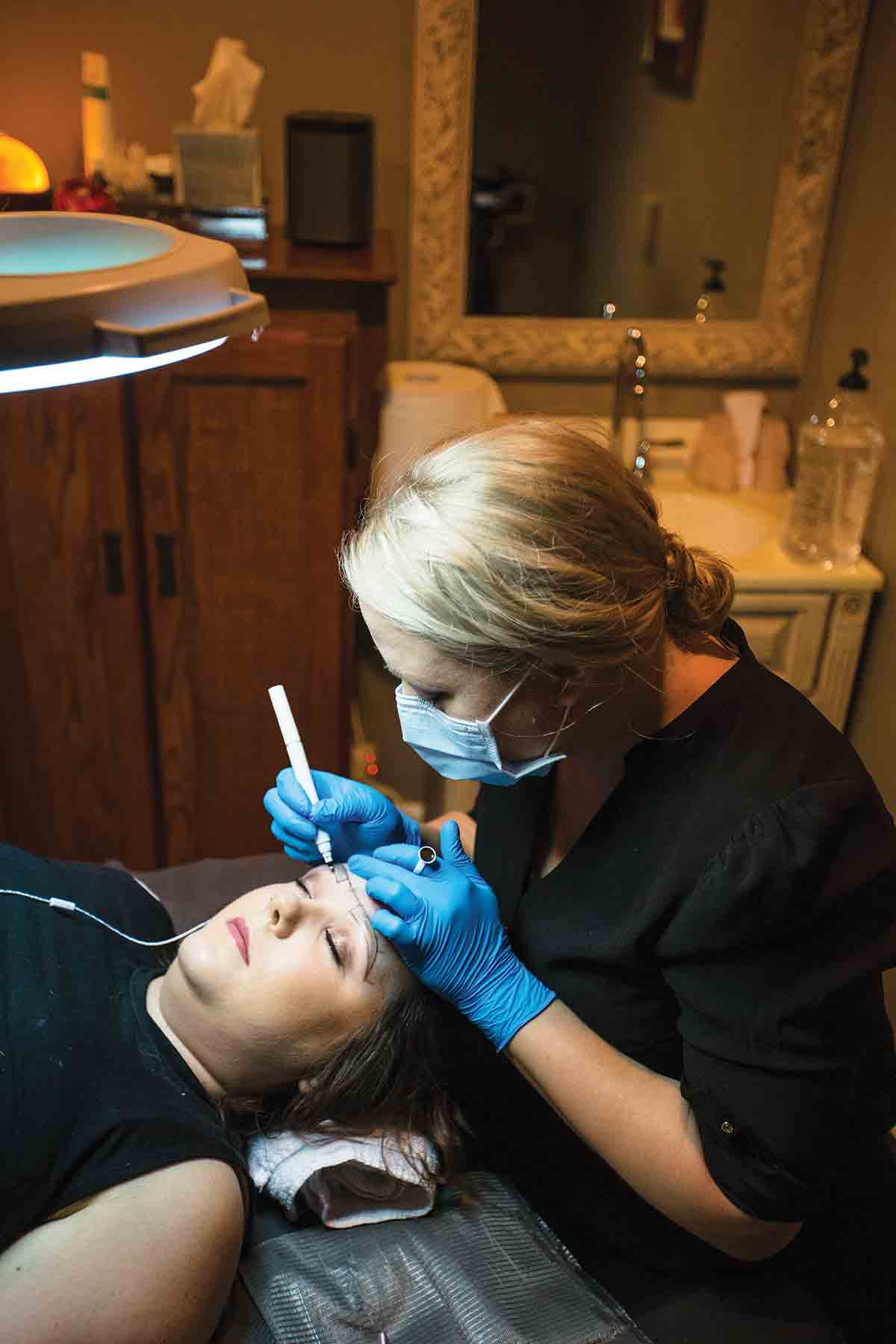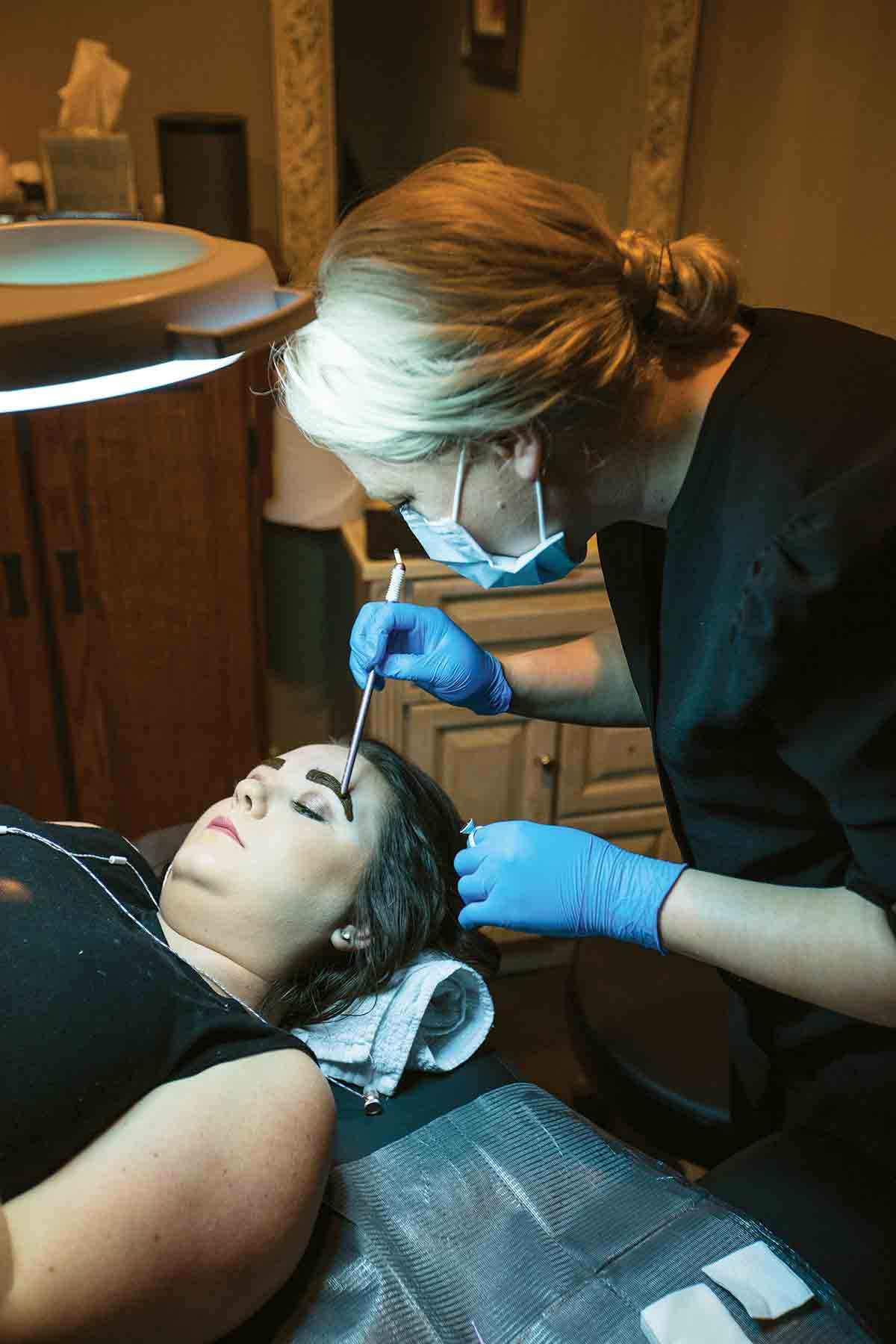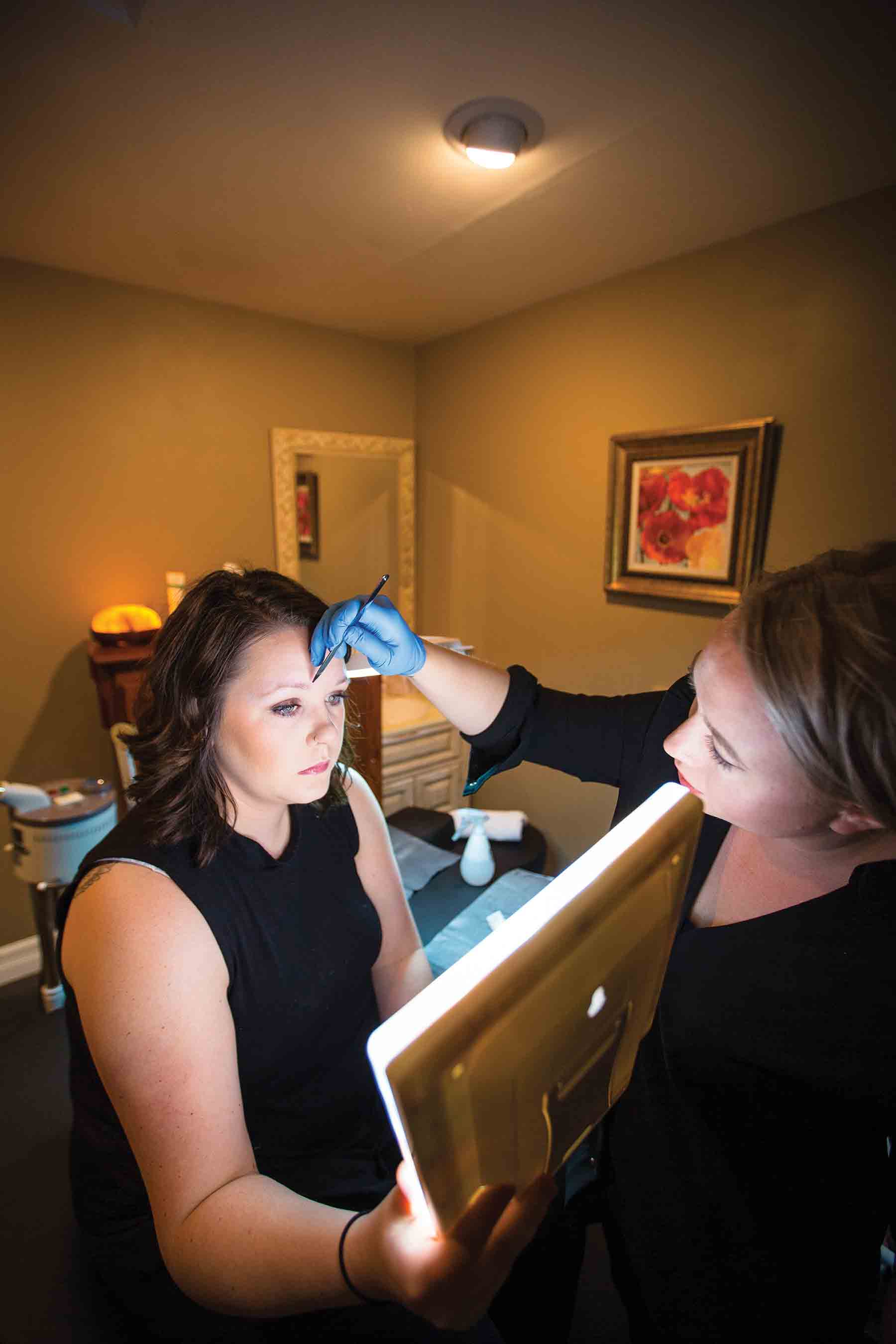 Your initial appointment will include your full new brows and the second appointment is the touch-up, filling in of any hair strokes that were lost in the healing process."
"Eyebrows can dramatically change the look of your face which can change a person's life.
The lack of specific skill requirements by state and local licensing agencies, make it possible for those associated with the beauty world to be tempted to take an introductory course in facial cosmetic tattooing and begin practicing on clients.
Mystic Rhythms' Tina Brataan observes, "Tattoos often go on a pain-filled canvas:  The skin."  And while many body art tattoos are done in the memory of loved ones,  "take care with your self first.  Go to licensed facilities and technicians.  Avail yourself of information to educate the customer."
Most importantly she says, "Stay healthy.  Body, art, health and heart, inside and out."