Text by Becky Acra | Photography by Jim Wells
"Sometimes you wanna go where everybody knows your name!"
When it comes to fitness and working out or starting a new sport that's exactly what you need. We might not know your name now, but after one visit to Cheers! Fitness, you will feel like instant family. When starting a new work out routine sometimes a small class environment is just what you need. From building relationships to enhancing competitive instincts, a bootcamp workout is often the key for an individual to jumpstart their fitness goals. Bootcamp offers a total body overhaul in a more intimate setting than traditional weight rooms and gyms. Below are a few examples of some exercises you might experience at Cheers! fitness boot camp.
*Warning: Being a part of Cheers! Fitness may cause confidence to rise, muscles to grow, clothes to fit, children to flip, and families to smile.
Tricep dip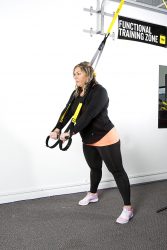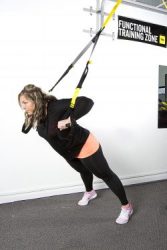 Find a position that ads comfortable resistance. Begin with your elbows close together and arms straight. Making sure your shoulders and hips stay in line, slowly lower yourself down to a bent arm position. Keeping your core tight, push through your triceps and bring yourself back to starting position. To modify the exercise step one foot forward and follow the same range of motion. Begin with 3 sets of 6-8 and work your way up to 10-12 reps.
Standing bicep curl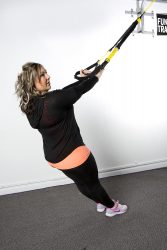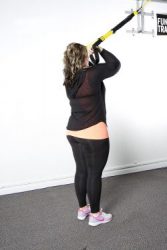 Find a position that ads comfortable resistance. Keeping your core tight (moving plank shoulders hips and knees in line) curl your arms squeezing the contraction at the top. Do not let your back arch as you curl up. If at anytime the resistance becomes to much walk your feet back so you are not pulling as much body weight. Start with 8-10 reps and work your way up to three sets of 12-15 reps.
Squat with kettle bell into overhead press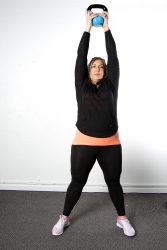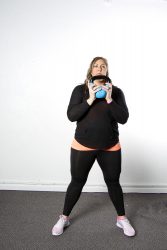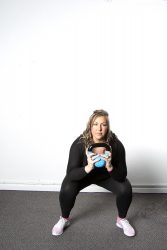 Begin with feet shoulder width apart and kettle bell in a comfortable position at your chest. As you initiate the squat, push your hips back making sure the knees do not push over the toes. When you stand up out of your squat power through the heels and hips squeezing your glutes and press the kettle bell over head making sure the back doesn't arch. Begin with 3 sets of 8-10 and work your way up to 4-5 sets of 10-12.
Lateral lunge with a kettle bell shoulder raise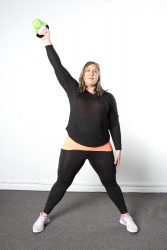 Begin with feet slightly wider than shoulder width apart. As you lunge to the side make sure your knee does not fall over your toe. Keep pushing your hips back. Drop your opposite hand (with kettle bell) to the opposite foot. As you stand, push through your heel of the lunged leg and raise the weight all while squeezing your core tight. Do not let your back arch. Be careful to not use too heavy of a weight when you start so as to not compromise the shoulder. Begin with three sets of 8-10 and work your way up to 12-15.
TRX plank tuck in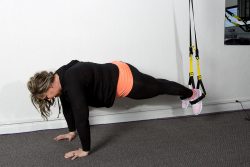 Start on your stomach with your toes in the TRX handles. As you push yourself up make sure you have no arch in your back and push through strong feet. Keep your shoulders and wrists in line and tuck your legs in slightly lifting the hips. Start with 3 sets of 8-10 and work up to 12-15 reps.
TRX lateral lunge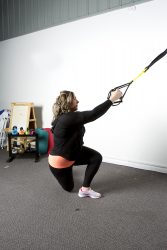 Find a comfortable starting position. Cross one leg behind you at a diagonal keeping your foot lifted off the ground. Tap your knee and power through your stationary heel driving the free leg up past belly button level to engage the core. Do not let the bending legs knee shoot over the toe. Keep chest and head lifted. Start with 3 sets of 12 reps and work up to 15 reps.
TRX Squat with high row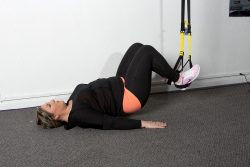 Start with a position that ads comfortable resistance. As you squat push back keeping your knees behind your toes. As you push yourself back up push through your heels and pull your arms back squeezing the shoulder blades in the back and lifting into your toes. 3 sets of 10-15 reps.
~ Becky Acra is the owner of Cheers! Fitness and the head coach of the Montana Storm cheerleading program. Becky is an ISSA CFT and a certified TRX instructor. She had a passion for coaching and helping people of all ages gain confidence and reach their goals.