Creating One-of-a-Kind Fly Rods and Custom Furniture in Highwood, Montana
Text by Shane Klippenes • Photography by Sara Young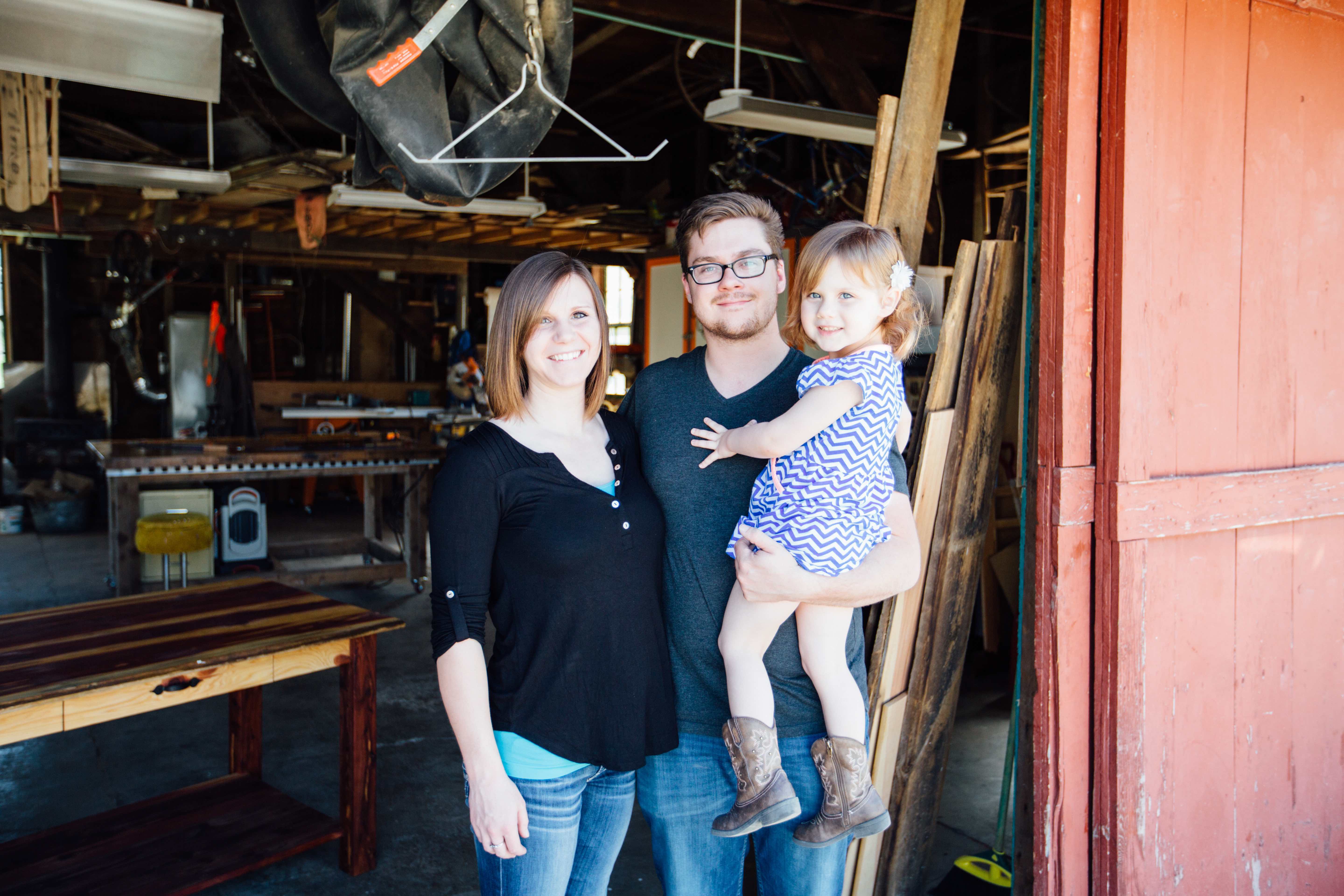 "When you're first married, young and broke, you can still have nice things if you build them yourself rather than buy them."
Jake's passion for music, graphic design, photography, woodworking, fishing and all things outdoors distilled over time, leading to the creation of Jake's cottage industry in the shadow of the Highwood Mountains, near Great Falls, Montana. 
Jake and Kelli Jo Settera's fledgling business bears the stamp of the faith, hard work, skill, creativity and character that was imprinted deeply during their upbringing from multi-generational, Montana military and farming families. 
Although Jake has always been handy with tools and possesses a master's eye for detail, he "never thought of creating things as a job until it became one."
Jake works on the family farm out of an old shop, which he is actively restoring in exchange for use of the space. The large, drafty building keeps the bulk of the weather out, while providing the square footage he needs to work on several custom pieces at once, and leaving room for everyday farm work and expansion. 
The Fly Rods
Fly fishing can be as much an art as it is a science, with practitioners of the fly casting culture coveting unique gear that portrays personality while functioning without flaw. After years of fishing the myriad waters in the mountains surrounding his home town, Jake discovered fly fishing when he and his bride moved to Missoula for college. 
Shortly after wetting his first fly, Jake was introduced to veteran fly fisherman and rod builder Dane Scott, who teaches fly rod building classes when not covering water in the Missoula area. He quickly saw talent and promise in Jake, and began using him as co-instructor for multiple courses. 
Taking full advantage of the adage that "there is no better way to learn than to teach," Jake immersed himself in the process, becoming exceptionally skilled, while creating solid rods with cool vibes along the way. 
Now, years later, customers seeking a one-of-a-kind fly rod that functions as flawlessly as it looks, look no further than Jake's unassuming shop. 
Function follows form or does form follow function? In the custom fly rod business, the two are impossibly intertwined, a paradox that Jake embraces and weaves into the process of helping customers choose each component of their custom creation. 
From the blank that acts as the backbone of the rod, to the handle design, reel seat material, thread color and eyelet style, every component of a Settera Custom Rod is selected by the end user, and handcrafted into a quality piece that the owner will be proud to use on local waters or hang above the mantle. 
The Furniture
While friends and family had been requesting custom furniture builds and restorations for some time, low wheat prices were also responsible for the creation of the furniture division at Settera Customs. Seeking to find balance between finances, family, friends and ministry, Jake and Kelli Jo saw the creation of their business as a way to provide custom-order furniture to a rapidly expanding clientele while minimizing the impact of wildly fluctuating grain prices.  
From traditional pieces to funky tables that combine the modern look of iron hairpin legs and genuine barn wood tops, the Setteras have been working hard to keep up with demand. Kelli Jo provides her unvarnished critique on each project, keeping creative influences tight, while Jake
procures the reclaimed wood and metal from local farms and ranches that produce the unique designs for which they are rapidly becoming known. 
Now that the word is out, Jake finds himself working full-time on a large project for a local real estate firm, building custom cabinets, desks, shelving, storage and art from "raw metal and reclaimed wood."
Fully functional with unparalleled form, (function follows form, right?) his latest project will be completed summer 2017, and will showcase the best of both form and function. 
Designed from its inception to be a means of expression as much as a means to an end, Settera Customs is off and running. Jake has, in fact, proven that building it yourself is the best way to go!