Text by Claire Baiz • Photography by Phil Procopio
Craig Duff gets a question that's more common for a four-year-old kid at a birthday party than a forty-two year old federal law enforcement officer. "Did you dress yourself?"
The answer is yes, head to toe—and inside out.
The thing people mention most? Those eyeglasses. He's only worn them a short time, but he keeps getting the same remark: You look like a spy from the Cold War.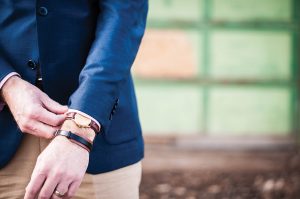 Duff's smooth retro-cool aura doesn't lend itself to denim: he's a flat-front trouser fellow. Though he doesn't brag about his footwear collection, he admits, "My wife would say I'm a shoe guy." Duff has yet to collect fine watches—but he's tempted. "It's an expensive habit…I could easily succumb." This tall, lean fellow prizes his sentimental Seiko, a gift from his parents.
His wife had better make room in the closet: Duff, who hails from artsy Austin, Texas, will surely pass along his sense of style to their young son.
His Look:
Sportcoat outfit: blazer and pants from Epaulet of New York. Pink shirt from Yellow Hook Next Ties. Shoes are by Carmina.Watch was a gift when young and KEEP bracelet was a gift from his wife.