Text by Mary Ellen Hendrickson  |  Photography by Jim Wells
Some moments are frozen in time.
Brenda Carpenter says she, "shouldn't have been out driving," the icy night she skidded off the road and rolled into power lines that would burn her limbs until she was discovered the next morning.
Kelly Lenington says he, "almost died," after freeing his left leg from the fierce rotations of a grain auger.
Matt Paton only recalls pulling onto a road to take a motorcycle for a test ride.  Observers told him later that he and the bike were struck first by a young driver running a stop sign, then again by another driver unable to stop, severing his right leg.
Tim Chaffin adapted to the loss of his right leg following cancer at age 12, and became so intent on being able to, "walk smooth," that he later became a prosthetist.   Kristi Chaffin met Tim and first fell in love with his knack for, "getting the right fit," for her right leg, amputated following a blood clot, then fell in love with him.
Facing the changes brought by the loss of one or more limbs, each person maintains that the term, "handicapped," just does not seem to fit.
In the 19th century, the term handicap was first used to describe the weight placed on the stronger horses to even up the race.  In golf, a handicap is added to the score of better players to equalize the chances of winning on the part of their less-skilled or experienced competitors.  The term has earlier roots in the phrase, "hand-in-cap," referring to a means of barter or betting in a game.
In today's use, handicap most often refers to the physical and/or mental challenges that would appear to put one at a disadvantage.  While for many the term has been a saving grace to obtain resources and services, others suggest that the term may need some re-defining.
Just consider the challenge many of us face under ordinary circumstances in finding motivation to get things done while keeping a sense of optimism and humor.
Now factor in loss, as in loss of limb, a part of your body, gone forever.
An ultimate handicap it would seem.
John Goodnow didn't come close to losing a limb on the golf course several years ago, but a mishap with his golf cart left him needing to use a motorized wheelchair to get around for a month.  Goodnow, CEO with Benefis Health System, says the experience gave him a vantage point, from the wheelchair, regarding the degrees of accessibility in his place of work.  He observed,  "A person has to become more, "handicapable," under these circumstances," and cited, "South Park," as his source for the word.
In the South Park episode where writers Matt Stone and Trey parker coined the term, two little "cripple kids", Timmy and Jimmy, end up having a "slugfest" in order to see who gets the single,"handicapped," seat on the school van for a field trip. And although the five individuals interviewed divulged no tales of "slugfests," their words and stories could be ours.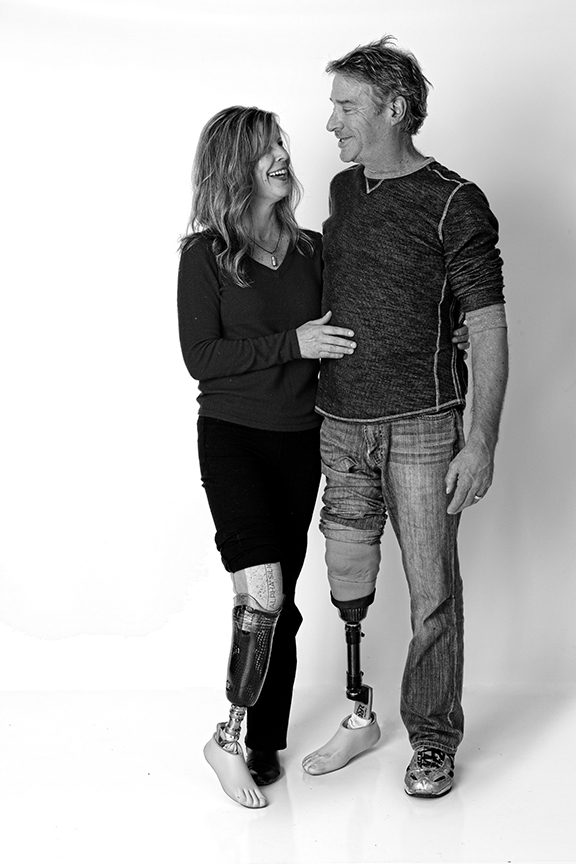 Tim & Kristi Chaffin
Walking, putting one foot in front of the other, may seem like second nature, but the process is far more complex, notes Tim Chaffin, owner of Maverick Prosthetics & Orthotics with wife, Kristi. "Now it's cool to show your components," she says of the carbon fiber, titanium and other sleek materials available today.
Chaffin says he recalls riding his bike to, "K-Mart to get some tape and stuff," determined to fix the leg socket he was given following his right leg amputation at age twelve.  Recognizing that the socket didn't flex he says he was told, "it's supposed to be that way."   His quest for a better-fitting socket fueled his desire to become a certified prosthetist and orthotist.  "A good leg should give good balance and allow one to, "walk smooth."
Kristi, who manages the office says, "Tim's raised it to an art!"  Describing how she met Tim she says, "My socket wasn't working.  I'm a pretty positive person, but was at a very low point.  I was very frustrated and it made me doubt my decision to amputate."  It was Chaffin's passion for exacting detail that solved her dilemma and won her heart!
"Handicapped," says Kristi, "can be a limiting word.  Disabled does not equal handicapped.  I've never considered myself handicapped.  I save that for people who truly are."
"Wounded warriors," states Chaffin, have brought more acceptance to amputations.  Specializing in customized work he says, "In people I work with, I don't have to second guess.  A bad experience with a leg that's not comfortable can make you want to give up."
"It helps a new amputee to know they're not alone," says Kristi.  "You can have the most positive attitude in the world, but if it hurts to walk, it impedes you.  It prevents what you want to do and you can get stuck over that barrier."  Also she notes, the person with the amputation often has to, "be the one to step up to make everyone else comfortable.  Many people just don't know what to say."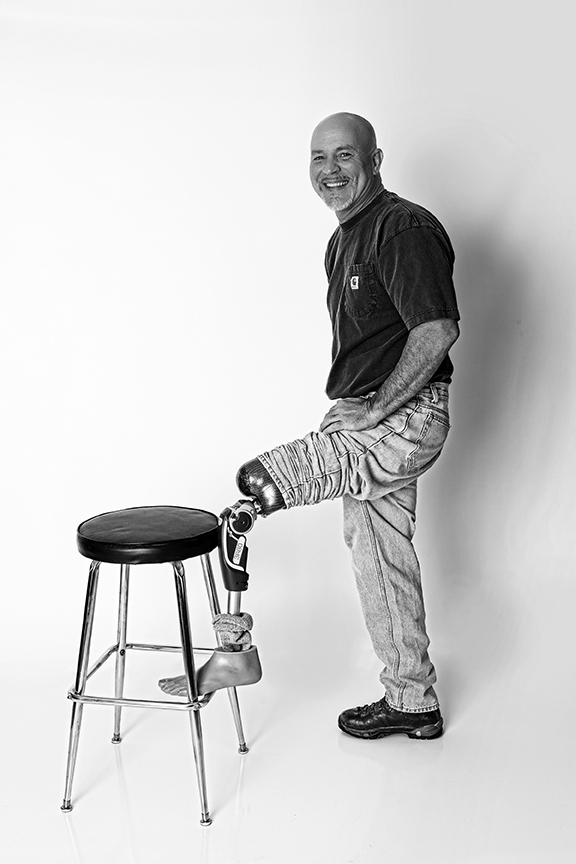 Kelly Lenington
Close ties with family, friends and community, hard work in irrigation farming, and humor, are hallmarks of Kelly Lenington's life.
Lenington was 27 when his left leg got caught in a grain auger working on the family farm and ranch in Fort Benton, nearly costing him his life.
The surgeon who did his amputation told him, "You can either get on with your life or things will go straight to hell for you."
"That kind of set the tone for my life," he says.
When asked if he thinks of himself as handicapped he says, "never!"
Lenington notes that the loss of limbs by service members in recent wars has prompted advancements with prosthetics.
Humor has helped him through many adjustments.  "I can hop with a full cup of coffee," he says, referring to getting around without the artificial leg.   Then there is the constant challenge of the not-so-phantom pains.  "It's like my big toe is curling.  Like someone holding a cattle prod," giving electric jolts to an invisible foot.
Lenington swam competitively in high school and trained again, following his accident, winning three gold medals at the state games in Billings eight years ago.  "And I was racing the normies," he quips.
Eight years ago when his sister, Hayley, editor of SignatureMT, featured him as one of three, "most eligible bachelors," Lenington met his sweetheart Julie.  "I was talked into answering a letter she wrote to me by a best friend," he says.  She says he is entertaining and inspiring.
"I feel luckier than most," he notes.  "Like RoboCop.  You've got to be optimistic and you've always got to plan ahead."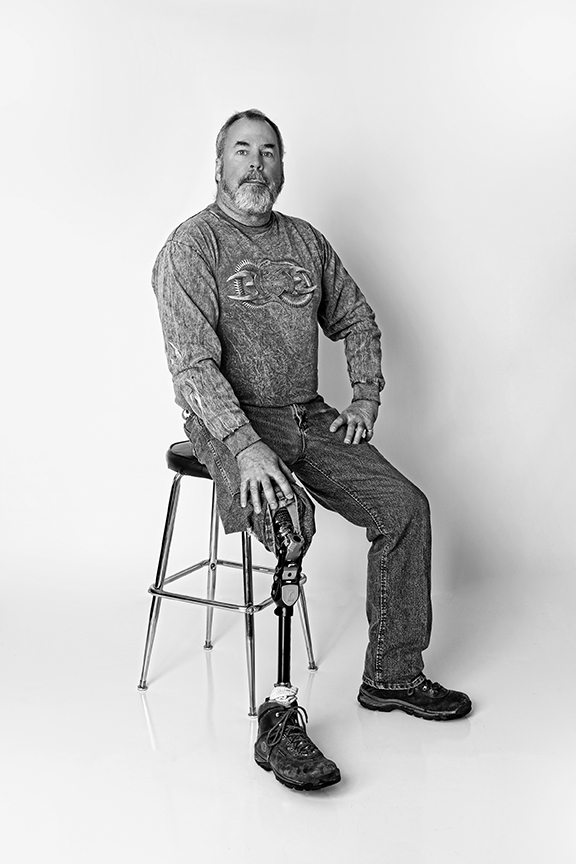 Matt Paton
Matt Paton says that when he tells someone he lost his leg, "It sounds really irresponsible.  Like I lost it somewhere. I know exactly where it is."
Paton was 27, working at a machine shop, when an acquaintance showed up on a new bike asking if he would take it for a test drive.  Within minutes of turning onto the road, he was hit in succession by two vehicles, severing his right leg above the knee.
One year later, on crutches, he mentions,  "a defining moment."
While trying to put an engine in a pickup, something he had done dozens of times before losing the leg, he was unable to, "get enough leverage," to line up the engine hanging from a hoist and, "almost lost it."
"Then I lost it," Paton says, as he and his crutches hit the floor.  "I picked up every tool within reach and threw them anywhere I could until I was exhausted."
"As I sat there I realized there were things I could not do and would have to do differently, so get used to it."
Shortly after that Paton says he was encouraged by a friend to try the dental lab business, which he continues at the present time, from his home in Great Falls.
Paton says that he often finds himself in the position of making others comfortable.  During a visit to a local gym he says, "The owner offered to be my personal trainer. He said it would be good for him as he had no experience helping an amputee with adaptive exercises."
Growing accustomed to the artificial leg was initially difficult, he says, noting that cold weather,  "makes a plastic socket very uncomfortable."  He patented a heater to solve that problem several years after his amputation and has recently marketed it for warming any size arm or leg socket.
"Everything I do is careful," he says.  "Before I take a step I have to think it through.  When you swing the leg to walk or take a stair, you have to make sure it's locked so you don't end up in a pile."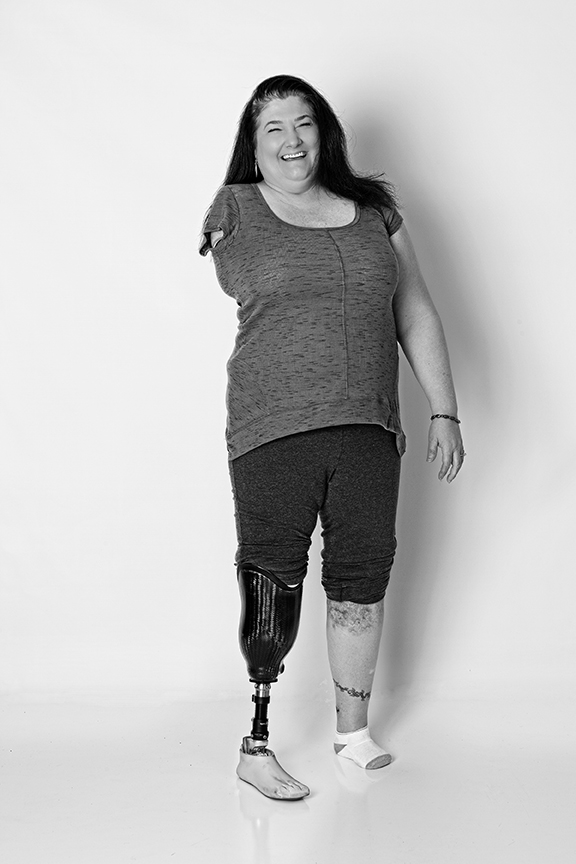 Brenda Carpenter

 
When Brenda Carpenter's car hit a power pole two years ago it started her car on fire and nearly ended her life.  Extensive medical care resulted in the amputation of her right arm, right leg below the knee and half of her left foot.  "I'm kind of like a pirate," she jokes, but adds, "they had to bring me back to life about five times."
One of her biggest challenges in losing her right arm was, "learning to be a lefty. I've never moved slowly, even my jobs have been fast paced.  I've never been good at that.  I'm learning a new lesson, a new way of life."
All amputees, she says,  "are kind of disabled without devices. Everybody gets stuck in life, emotional, physical, whether you're disabled or not.  It's a learning process."
"Depression is a part of everyday, but it would be different if I didn't move," says Carpenter.  "There are days I cry and have to motivate myself.  Sometimes it gets overwhelming.  I try to overcome that.  There are times my husband tells me not to be so hard on myself but I think that's what helps me be stronger." She credits a support network of family members and community services with her outlook as well.
She cites her work with PEAK personal trainer, Martina Lohouse as giving her added impetus.  "I don't want a great body or anything," she says, "but maybe one day I can run!"
Lohouse says, "When I first met Brenda a year ago I couldn't believe that despite all of her limitations, she maintains such a positive attitude about her life.  She is always so full of humor, grace and enthusiasm. I truly enjoy working with her as she is so highly motivated and that's something you can't coach."
Brenda counsels herself through the Amputee Coalition Website.  "Sometimes I think I'm behind, but reading the problems others are having makes it more normal.  I hear their struggles and I know I'm not alone.  Those stories keep me inspired.  Like watching a little kid playing baseball using his artificial leg as a bat and running around on his stump!"
"Statistically I've heard that something like eighty percent of people are going to know somebody who has an amputation, from diabetes even more than from war or accidents.  It's becoming more and more common," she says.  "Just give us eye contact and know that we are not shy about answering your questions."
Carpenter says she works to dispel the distance between those who have lost limbs and those who have not.  "So many differences," she says, "can come to be normal."
Humor helps!  When learning to use the mechanical right arm created for her she observes, "My husband says it's like I'm a bionic woman. I have to do it slowly so I don't crush stuff."
"It's like I'm a regular human discovering I have super powers."