A Home of Solitude & Sanctuary
Text by Heather Bode | Photography by Jim Wells
Do we remodel or build new? It's a question faced by many families on the journey of home ownership. For Nick and Robin Jankiewicz, the decision was clarified by a piece of paper. "We wanted to remodel our last home, but when the remodeling quote came in, we figured we'd might as well just build," says Robin.
THE VISION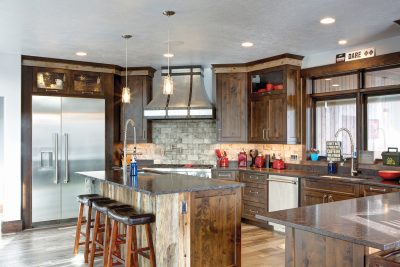 Nick and Robin spent two years meticulously planning their house, scouring Pinterest for ideas of what they liked, and creating a list of their must haves:
• River Access: "We kayak and paddleboard. We don't really do anything motorized on the river, but we like to play," Robin says.
• A home representative of Montana and their lifestyle: "We wanted a Montana feel. A little rustic, not a log cabin, but kind of hidden," says Robin. Nick adds, "The amenities are all here. It's warm but, still industrial because there's a lot of steel in the house. It's built to last, yet unassuming from the front."
•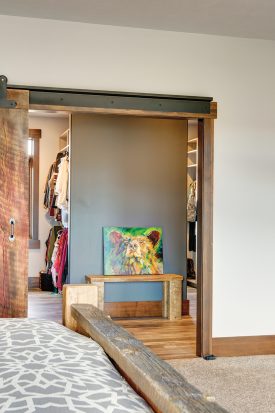 Spacious Kitchen/Living Area: Robin says, "Everyone comes here for Thanksgiving and Christmas: my sisters, my parents, and neighbors. I wanted a sizable kitchen where 20 people could be comfortable."
• Large Master Closet: Nick says, "Robin wanted a U-shaped closet. I sketched it out and said, 'Well, how big do you want the bays? Car big or like my truck big?' Robin responded, 'Like your truck big. I want to be able to park your truck in my closet!'"
• Paved Road: "We had a house on a dirt road, and soon our daughter, Kylee, will be driving. We'd rather be on a paved road," says Nick.
THE BUILDER
Finding the right builder to achieve their vision was the next step. After interviewing multiple builders, the Jankiewicz's were invited to dinner at a friend's house on Flathead Lake. Ted Holmlund was in the midst of a remodeling project on the house and was also invited to dinner that night. Nick and Robin mentioned they had a building project they wanted to pursue and, in the end, Nick and Robin also pursued Holmlund. "I basically stalked him for 18 months!" Robin laughs.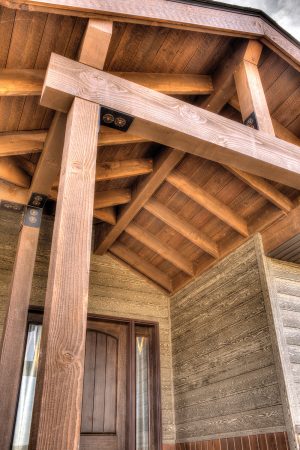 Ted Holmlund, a Great Falls native, has a 40-year track record of building homes in Montana. What sets him apart in the construction of custom homes? "He's one of the most hard-working and honest individuals I've ever met. When he signed on, he was here 90% of the time. If he was offsite, he'd call and tell us exactly what was happening. Every Monday, we'd get a run-down of what was happening on the house," says Nick.
Speaking of his work ethic, Holmlund says, "There is only one way of building and it's the right way…whether it's a $100,000 house or a $1,000,000 house: everything is straight, plumb, square. You start from the ground and you make sure it's straight up. You do it right the first time."
Holmlund works with a select group of subcontractors again and again. Those types of relationships, together with the clients' legwork before ground breaking, help his projects run smoothly.
He continues, "I'm very specific when I do my bids. In custom homes, I don't like to use allowance numbers. They're just numbers. But, if you have everything you want picked out ahead of time, that bid number isn't going to change much. Customers must pick out fixtures, appliances, and finishes at some time. In my experience, it's easier to do it beforehand than doing it when you need it. It eliminates quick decisions and the regret of 'I wish I had thought about it more.'"
THE RESULT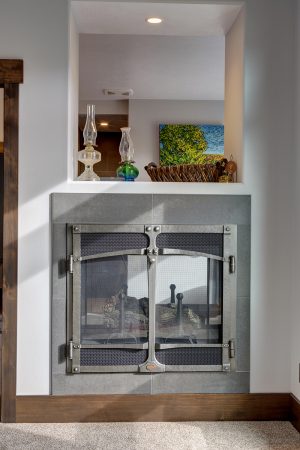 That's not to say the Jankiewicz's didn't get overwhelmed. "She hit the wall with the tile. I hit the wall with lighting," says Nick. "But, once we decided on something, we closed the book on it. It's so easy to go online and say, 'Hon, I know, but look at THIS!' When people ask how a building project is going, it's almost like they're asking, 'How's your marriage?' I said, 'Yeah, we're testing our marriage.' But, our likes are so similar."
With their background in the military and a return to Robin's native Great Falls from San Diego suburbia, this family is ready for solitude: a place where they can retreat at the end of a long day. From the view of the Missouri River, the bald eagles, hawks, and the rare Great Horned Owl flying overhead to the still silence of their location on a piece of former hay field, the Jankiewicz house provides the sanctuary they crave. Robin concludes, "It's our Forever Home."
A Closer Look at Cabinetry: Precision Woodwork's Steve Shanahan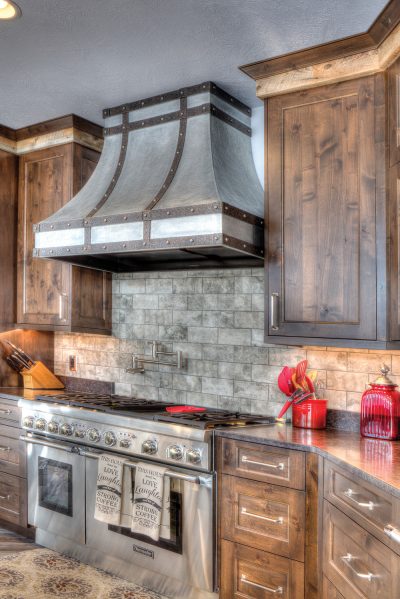 Steve Shanahan and Ted Holmlund share a common philosophy of honesty being the best policy. When it comes to working on custom homes, price points = honesty. Shanahan says, "Ted brings customers in early. I'll do a computer-generated floor plan with information from the customer. If that doesn't change, then nine months later, the price I bid doesn't change either. Adding an inch or two in dimension doesn't change my bidding. For the Jankiewicz house, we bid on knotty alder cabinets with a shaker style door in their footprint. That way, there's no surprises for anybody!" To help visualize a final product, Shanahan also can construct sample doors, or in the case of the Jankiewicz house, sample crown molding.
Another reason Shanahan appreciates Holmlund's approach is that it gives him time. As of this writing, he's booked four to five months out. "I'm not going to promise you May when I know it'll be July before it's done," says Shanahan, "People are willing to wait for quality craftsmanship. That's what keeps us busy. And, if my customers understand I'm working 10-12 hour days to get their projects done, then we're ok."
Shanahan and his crew can distress, glaze, burnish, paint, and stain cabinets to match virtually any style a customer has a hankering for. Most of his materials come out of Belgrade. He warns that reclaimed barnwood can be pricey. Or you can do what the Jankiewicz's did: supply your own. He'll work with it!