Finding Hope in the Battle Against Chronic Pain
Text by Holly Matkin | Photography by Marcus Serrano
Like so many Montanans who depend on the earth and sky for their livelihoods, Steve and Josie Gordon embody the principles of rural western culture. Propelled by determination, ambition and fortitude in the face of inevitable adversities, they toil away on their fourth-generation cattle ranch southeast of Cascade, fostering their family's legacy.
Fellow Great Falls area resident Margaret "Maggie" Welzenbach exudes a similar tenacity and zest for life as a sprightly, self-proclaimed "wild child." If you are having difficulty reaching her by telephone, it is highly probable she is outside, busily tending to her much-adored chickens.
Regardless of age, profession or specific location, Maggie and the Gordons exemplify the commonalities of Montanans as a whole. We are independent and self-reliant. We are weathered, yet strong. We identify ourselves by these characteristics, and struggle to exist in their absence. If there is any power with the strength to threaten this spirit of freedom, it may very well be chronic pain. Over the course of ten years, Josie experienced migraine headaches — often on a daily basis – and extreme lower back pain that radiated into her legs. Maggie recalls having injured her shoulder on two occasions, ultimately causing such severe back pain that sleep seemed impossible.
"I would wake up screaming and hollering," Maggie says, "and the pain went on like that for about five years." "It gets overwhelming and very depressing," Josie admits.
When Steve's lifetime of ranching resulted in him needing shoulder and hip replacements, the Gordons found themselves meeting with Dr. Craig Sweeney at the Great Falls Clinic. "I watched how much he helped Steve," Josie recalls, "I went and asked my doctor to refer me to him, too."
Originally hailing from the small community of Lone Pine, Dr. Craig Sweeney has been helping patients at the Great Falls Clinic for the past two years.
"I completed four years at St. Louis University for anesthesia, then a year of fellowship for pain management at the University of Iowa," he advises. "Now, I do four days of pain management and one day of anesthesia each week."
Although chronic pain is the recurring theme for Dr. Sweeney's patients, the causes of their conditions vary. "Probably 30 or 40 percent of my patients are people who have neck or back pain," he estimates. "About 20 percent have arthritis of various joints. I also see a lot of people with myofascial pain, bursitis, fibromyalgia or neuropathy."
One of Dr. Sweeney's primary tasks is making sure he and his patient have the same goal. "Often times there's not a cure for the chronic pain condition," he explains, "A vast majority of my patients are very realistic. They're looking for improvement, and we can be very successful in doing that."
Although he is not averse to utilizing opioid medication when appropriate, Dr. Sweeney strongly believes a wider array of approaches should be considered to help alleviate pain. "We talk about non-opioid medications, such as neuropathic medications, prescription anti-inflammatories, and certain types of antidepressant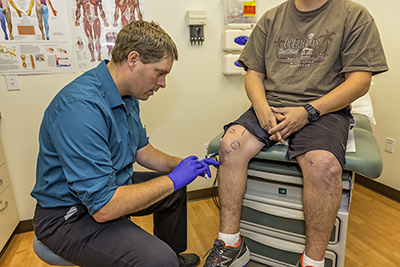 medications that have been shown to be beneficial for neuropathic-type pain states," he notes. "I will offer interventions and injections when deemed appropriate. We also talk about physical therapy, pool therapy, acupuncture, yoga, massage therapy, counseling and psychiatric therapy. What I look for is an improvement in symptoms, because if I get that, then I am happy."
Steve and Josie are nothing shy of elated by the positive effects they have experienced in working with Dr. Sweeney. "The quality of my life has improved beyond words," Josie says in amazement. "I adore Dr. Sweeney. As far as we're concerned, he walks on water."
In perpetual celebration of what she refers to as "a brand new back," Maggie is quick to give credit to the doctor who has given her so much hope. "Dr. Sweeney is awesome," she says. "Just awesome, awesome, awesome – and you can tell him I said that."