The Historic Montana Building's Next Chapter
Text by Holly Matkin | Photography by Jim Wells
On an unassuming side street in downtown Great Falls, a renewed energy is buzzing through a stately 88-year-old brick building just north of Central Avenue. Commonly known as the Montana Building, this four-floor structure was originally constructed in 1929 in order to house the office spaces of a cooperative of medical professionals. Over the course of nearly a century, its rooms have been occupied by attorneys, doctors, dentists and an array of small businesses, interspersed with poignant stretches of vacancies that have made its vastness all the more prominent. Through good years and bad, the Montana Building has awaited its next opportunity to shine, standing as a silent witness to the evolution of the city's business epicenter.
Back to Glory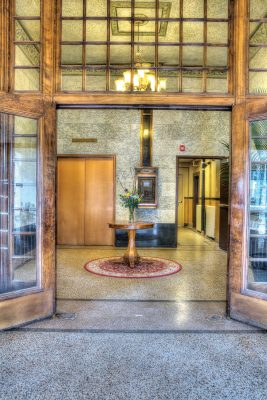 When he purchased the Montana Building in 1994, Coeur d'Alene-based developer Todd Stam knew he would have to implement major renovation and remodeling projects in order to maximize the structure's potential as a commercial office space. "I was looking for a place with a low tenant count, but that had lots of possibilities," he explains. "It's old, but structurally it is solid with about three feet of cement between floors. They just don't make places like that anymore."
As Todd renovated the space floor by floor, he took care to preserve key treasures of the building – many of which were quite opulent for a structure constructed during the year of the stock market crash.
"When we pulled up the carpet, we found this incredible terrazzo flooring," he recalls. Marble wall panels, a lobby mail drop and transoms with brass openers are but a few of the Montana Building's original gems. Incredibly, the property also boasts an underground parking area.
The Lofts at 503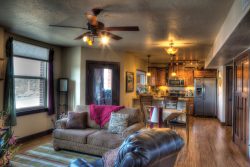 Over the past 23 years, Todd and his team have built a total of 19 luxury condos on the three upper floors of the Montana Building, now known as the Lofts at 503. Great Falls real estate agent Beth Schoenen has worked with Todd on the development of the urban living spaces since the beginning.
"Having a residential area incorporates a nice sense of community downtown," Beth notes. "There is a lot of diversity with the people living there as far as age and profession, and the more people who live downtown; the better it is for the area as a whole."
Not only does this centralized location provide an array of shops and services within walking distance, it is also the home of four businesses of its own.
Crooked Tree Coffee and Cakes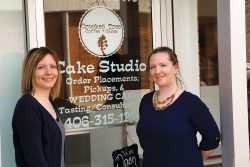 For nearly six years, sisters Leah Robinson and Lindsay Hager have operated their gourmet coffee and custom cake shop out of the Montana Building's former pharmacy space. "We really like the older, downtown feel," explains Leah, "and we wanted a space that had character."
Wood stump table pedestals, exposed brick walls and a steel cable-lined mezzanine add to the rustic, easygoing feel of Crooked Tree's open sitting area. Patrons craving an intense game of Scrabble may be pleased to find like-minded wordsmiths setting up a tournament at a center table.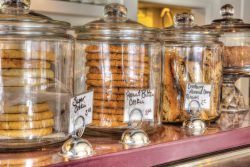 Crooked Tree provides made-from-scratch fare, to include homemade coffee syrups and artfully detailed cakes with flavors such as "Mixed up Marble" and "Celebration Champagne." Private consultations with one of the business's two cake artists are also available on site.
McMeel Insurance
The Montana Building has been home for Mike and Di Rydell's third generation insurance agency for the past five years. By focusing on the technological aspects of the industry, McMeel has expanded the means by which they interact with clients.
"From the time they walk in the door," Di says, "we want people to get the vibe that we're different. We want to make it about the overall customer experience, not just selling a product." Expect the best from a company who uses the tagline: "Probably the Greatest Insurance Agency Ever!"
Fire Artisan Pizza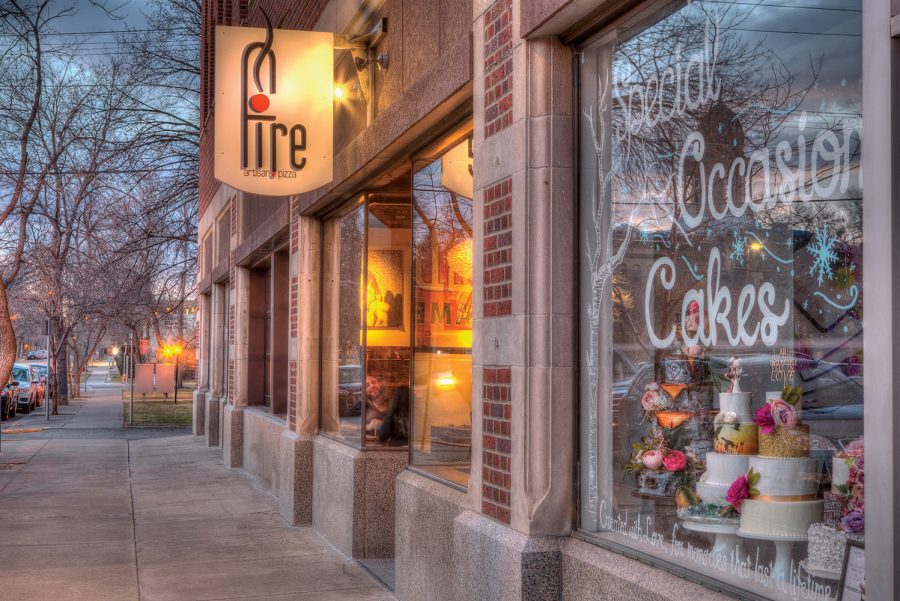 Since opening on January 26, owner Joe Anderegg and the 34-member Fire Artisan Pizza crew have served a full house nearly every night. "This is a true wood fire restaurant," Joe explains. "Everything we serve is cooked in a single oven that is heated only by applewood. Plus, we make absolutely everything from scratch – sauces, dough, cookies – everything!"
Although the restaurant's tables are situated in close proximity to one another, the clamor and chatter of the dining room creates a contented sense of anonymity. Flickering light from the open fire and wall cutouts highlight the cozy, authentic atmosphere, while large black-and-white photographs punctuate the space with a nod to the beauty of raw, unpolished moments in daily life.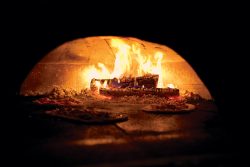 At the bar, Fire offers beverages to suit every taste. "We have ten draft handles," Joe says, "and they will always be Montana microbrews. Our wine selection is unique and very high quality." Pressed coffee, water with cucumbers, lush salads and pizzas served on thick wooden boards round out a refreshing new dining option for the Great Falls area.
Klover
Slated to open on June 1, Kristina Remsen's up-and-coming fashion boutique, Klover, will offer contemporary, quality clothing at affordable prices for the entire family. Klover will carry versatile pieces by Flag and Anthem, Mavi, Thread and Supply, and Doe & Rae, among others.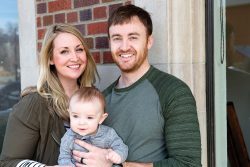 "In a year, I hope our business is flourishing with a great reputation for a fantastic shopping experience," Kristina says. "It's about customer service, not just the product." As she sets up shop in the last vacant space in the Montana Building, Kristina sums up the general sentiment of those who choose to live and work in this urban setting. "This space is rustic and industrial and I love everything about that," she explains. "I want to be involved in downtown and to partner with and support other businesses here. Really, I'm just excited I get to be a part of it."