Building a Legacy Home with Heirloom Quality
Text by Heather Bode | Photography by Jim Wells
For centuries, there have been those who have explored the great state of Montana. Traipsing through her majestic beauty and mountainous expanses tends to leave a lasting impression that runs so deep, many return time and time again.
Bryn Stroyke's father was one of those who yearned for a Montana ranch to call his own. After years of searching and failed offers, one was finally accepted. But, by that point, Bryn's father had passed away.
Stroyke never forgot his father's wishes. "My dad bequeathed that legacy to us," he says, referring to himself and his brother, Robb. But Stroyke also knew the harsh realities involved in the upkeep and owning of a second home. Preferring a trout stream to house repairs is an easy choice for any of us. That's where the Ranches at Belt Creek came in.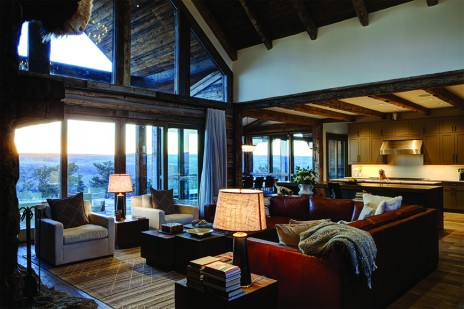 Perched just outside the town of Belt, with a sweeping view of the Highwood Mountains, the Ranches at Belt Creek provided a place for Stroyke to fulfill his father's dream and accomplish his own goal: "The goal for me was to have a multi-generational place. I have three daughters and someday they'll bring their future families here," he says. Bryn's brother purchased the adjacent property, collectively called Luckyman Ranch.
Aiding the Stroyke family in their quest for an heirloom-quality home were several key people: James Klippel hails from Buford, GA, where he is an artist and the Designer of Architecture at James Klippel Design Studios. Specializing in dramatic, custom, rustic, and natural homes, Klippel's designs boast open plans, energy efficiency, and natural light. His unique work has spanned 4 decades with many domestic and international award-winning projects.
Klippel arrived in Belt in August of 2013 to walk Luckyman Ranch alongside the Stroyke family and develop sketches. "The design concepts we did together in Montana were 90% of the final plans. Collaboratively, the family added input, making creating the design a fun and fluid process for all," says Klippel.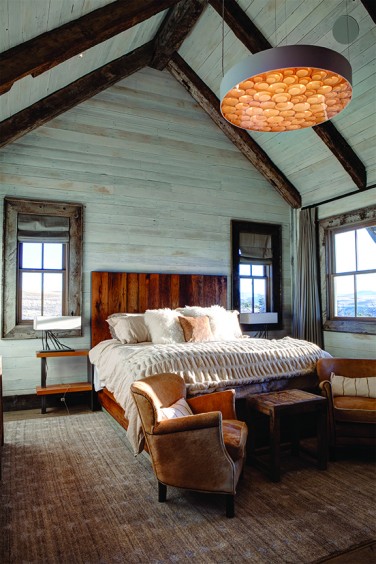 What were the key factors? Klippel continues, "The beautiful Montana land comes first: the views, micro-climate, solar orientation, and energy use are considered. Then the family's desires and lifestyles are molded into the aesthetic of the built spaces by the natural setting and vistas. Reclaimed honest and natural materials of a timeless character are then incorporated to bond the family and friends with a peaceful and inspiring sense of 'place' in the architecture for generations to come."
Matthew Pethel, of The Pethel Group, LLC located in Belt, was the general contractor and builder. Once the plans were finalized, it was up to Pethel and his crew to painstakingly pick through piles of reclaimed lumber shipped in from Idaho and Appalachian homesteads. "The concept was a little log cabin in the living area and then the house expands out from there," says Pethel. "These logs are twisted and warped. They're not easy to cut! It's not cutting a 2×4." Pethel is used to it. He's been building log homes for 25 years, even for country music artists.
Pethel sees the beauty in using reclaimed materials: "You don't have to worry about settling or cracking, and I've run the numbers. For what you'd pay for siding and then paint or stain every few years? Reclaimed materials cost more upfront. But there's zero maintenance."
The interior finishes and furnishings are the handiwork of Laura Fedro Interiors, Inc. She and her associates spear-headed everything from custom cabinets and furniture to lighting, wallpaper and draperies. Practicalities such as a double washer and dryer in the laundry room to a cowhide-covered bench in the mudroom (What doesn't get muddier than a cow?!) exhibit their extensive knowledge of combining family-sized functionality and classic design.
With a resumé listing names like Ralph Lauren and Pia Zadora, one might think Fedro would be quite the intimidating presence. The opposite is the reality. "Our intention is to create beautiful, calming environments because I think part of the reason you come to Montana is to not be part of the Rat Race. When you move here, you sense that. It's a place you can be yourself and be authentic and real," says Fedro. She continues, "Spatially, this house works really well. You feel very sheltered whether you're inside or outside any time of year. It'll be a comfortable, hopefully timeless, generational home."
Adding to the comfort, Tony Hannah of Hannah's Sound in Great Falls, installed a Control 4 system. This system enables Stroyke to control everything en masse: lighting, audio, video, thermostats, and door locks…all from a Smartphone or universal TV remote. Hannah explains, "You can create 'scenes.' A daytime scene where the blinds go up and music turns on and a nighttime scene when the lights come on. The nice thing about Control 4 is you can build on it. It's completely customizable to your needs."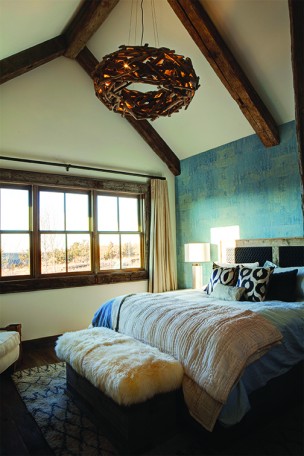 When asked to describe the house, both owner and builder agreed on the terms Rustic Elegance. Saskia Ewen Fox, an associate of Fedro's, says, "Between the great room and the master…that's where the rustic elegance comes in. The master suite (boasting white-washed barn wood walls gleaned from a local barn against gray hand hewn reclaimed beams) is very elegant. Then the great room remains so rustic with the log slabs and timber framing details."
Another example is the oversized buffet separating the kitchen and great room. The creation of Elements Concrete in Bozeman, the piece is made of reclaimed oak dating from 1763 and has been infused with tin. The tin molds perfectly within the wood's cracks and checks as it flows much like a Montana trout stream through the aged piece. Running your hand across the top reveals a smoothness so perfectly melded it's as if the tin and wood had always been together. Shaw Thompson from Misco Mill in Bozeman hand-crafted all the custom beds in the house out of similarly sourced reclaimed lumber, providing an interesting mix of traditional materials with a contemporary bent.
Stroyke concludes, "I wanted there to be authenticity. From the beams to the floors, it's all reclaimed. The great thing is, year after year after year, it just keeps aging." And that's what makes this house the perfect family legacy.