Original Cowboy Artist FROM CANVAS TO THE BIG SCREEN
Text by Angie Windheim
Charlie Russell Inspires Film and Whirlwind of World Premiere Events in Great Falls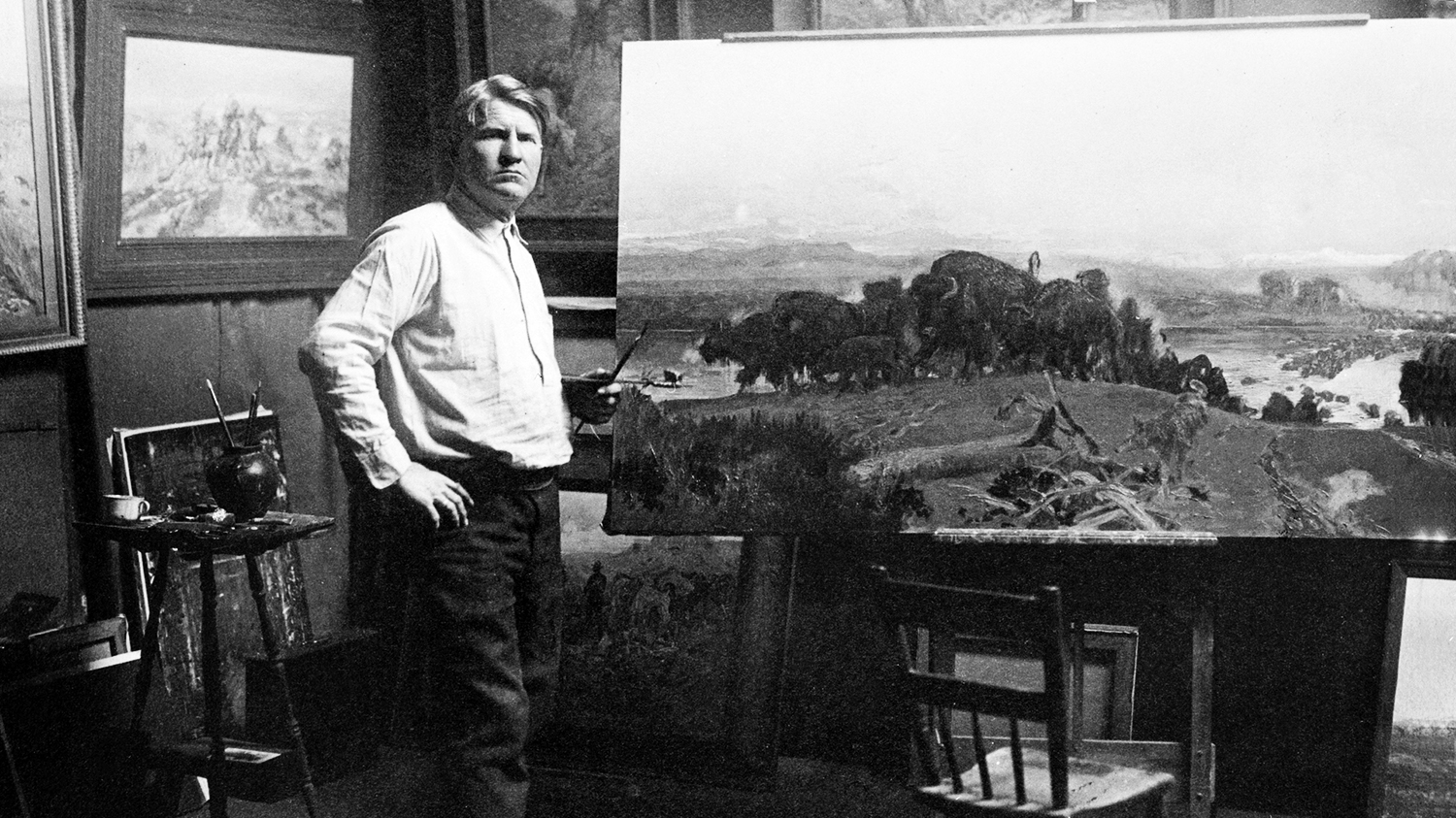 Artist. Historian. Conservationist. Charlie Russell (1864-1926) is well known as the original "cowboy artist."  In a new film documentary from Montana PBS, Charlie's timeless message will go beyond the canvas to the big screen at the September World Premiere of C.M. Russell and the American West in Great Falls. 
Caught in the excitement of hosting a World Premiere movie, the Great Falls community and C.M. Russell Museum are preparing to Raise the Roof for the Russells.  Two days of fun-filled events lead to the free and public Mansfield Theater screening on Saturday, September 9.  Charlie fans are invited to enjoy gallery openings and dedications, a lively auction benefiting The Russell House and Studio, and a Chuck Wagon Barbecue. Those looking to experience a touch of Hollywood can even attend a VIP Access Party to meet special guests who will share their passion and stories about the film.  
"In Great Falls, Charlie's chosen home, we are immeasurably proud of The Russells. It is an honor to be able to launch this film and be the first to share Charlie's treasured story and the true spirit of the American
 West with the world," said Tom Figarelle, C.M. Russell Museum executive director. "Our community is energized and dedicated to hosting a wonderful celebration, and we hope visitors and residents are as excited to be a part of it as we are."
Montana PBS brought an impressive team of talent together to create the documentary. Academy Award winner J. K. Simmons will narrate, Bill Pullman will voice Charlie Russell's illustrated letters and assorted writings, and Kathy Baker will voice lines from Nancy Russell's memoirs. The film was created by Producer/Director Gus Chambers and 
Producer/Writer Paul Zalis. William Marcus and Aaron Pruitt of Montana PBS are Executive Producers.
C.M. Russell and the American West showcases the life and art of Charles Marion Russell. Viewers will follow his arrival in Montana as a youth, his apprenticeship and work as a cowboy on the open range, and his self-taught, almost explosive growth into an iconic American artist who affected generations. Charlie's body of work was panoramic and modern and notable for its sensitivity and reverence for the land, wildlife and its Native people.
The C.M. Russell Museum will be open both days offering the opportunity to be inspired by Charlie's art, original home and studio before being inspired by Charlie's story at the premiere.
More details and ticket information at www.cmrussell.org