Text by Claire Baiz • Photography by Daphne Wade
Creative Addictions 11 4th Ave. SW, Ste 300
Art, In the Old Arnot's Building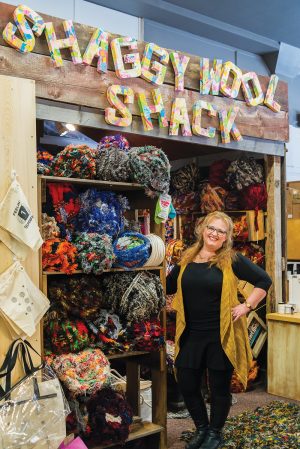 Kit Finlayson's four grandkids have no excuse to be bored—visiting their grandmother's business is like entering a Willy Wonka craft factory, overloaded with watercolor supplies, jewelry, scrapbooking, stamping, knitting, rug making, and every imaginable paper craft. Located in the huge Arnot's furniture building, Creative Addictions has plenty of friendly workspace, along with lotions, oils, perfume and gifts…and then there's the gourmet chocolate.
It's no surprise that Creative Addictions is garnering a national reputation among crafters.
Finlayson, a Conrad native and MSU graduate, loves to do all the artistic things she has in her store. Stop by, take an adult-ed class, or share the joy of "I made this!" with your friends and family.
Even if you don't crochet, it's easy to get hooked at Creative Addictions.