Neonatal Nurse Practitioner
Text by Claire Baiz • Photography by David Rabenberg
Beckett Perkins knew by the time she was in junior high that she wanted to help sick babies.
This Missoula native was well on her way to becoming an Advanced Practice Registered Nurse (APRN) when her own premature twins began their lives in Salt Lake City's Neonatal ICU.
Perhaps because she's "been there," Perkins' compassionate professionalism inspires everyone—especially her twins Alissa and Ainsley, who are nursing students, and daughter Brianna, who is working on her pharmacy degree. Perkins, a Benefis employee since 1997, says there's no such thing as a typical day. "I couldn't do it without my husband and family."
How busy is she? Up to 70% of babies in the NICU are transported. Last year, Benefis' 350-lb. 'mini-NICU' took one of five nurses on over a hundred helicopter or jet flights, going as far east as Sidney.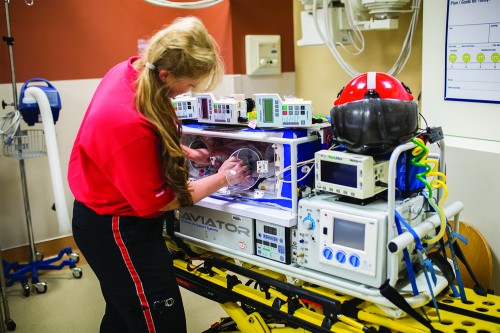 Perkins is humble about being Montana's first Neonatal Nurse Practitioner (NNP). She relishes the joys, meets the challenges, and understands the dangers of being a flight nurse. Mostly, she's proud to be part of a team that helps the most vulnerable among us, babies in their first hours of life.