Text by Claire Baiz • Photography by Daphne Wade
Creative Addictions 11 4th Ave. SW, Ste 300
Art, In the Old Arnot's Building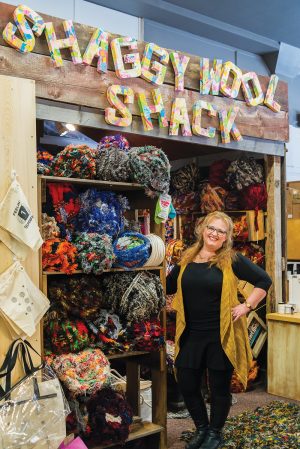 Kit Finlayson's four grandkids have no excuse to be bored—visiting their grandmother's business is like entering a Willy Wonka craft factory, overloaded with watercolor supplies, jewelry, scrapbooking, stamping, knitting, rug making, and every imaginable paper craft. Located in the huge Arnot's furniture building, Creative Addictions has plenty of friendly workspace, along with lotions, oils, perfume and gifts…and then there's the gourmet chocolate.
It's no surprise that Creative Addictions is garnering a national reputation among crafters.
Finlayson, a Conrad native and MSU graduate, loves to do all the artistic things she has in her store. Stop by, take an adult-ed class, or share the joy of "I made this!" with your friends and family.
Even if you don't crochet, it's easy to get hooked at Creative Addictions.
Olson's Drug, 15 4th Ave SE
Medicine and Malts at Olson's Drug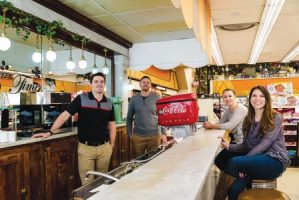 Together, Loren and Brandon Utterback purchased both of Conrad's local drugstores—but that's not the only thing these brothers have in common. Both graduated from UM School of Pharmacy. Their wives, Rachel and Callie, are busy at home with two Utterback kids apiece…and they live on the same city block.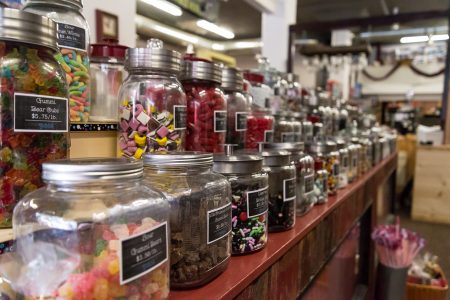 Brandon runs Village Drug, while Loren runs Olson's, the quintessential small-town drugstore—complete with classic lever-pull soda jerks and a dinging cash register. "Sometimes I look up, and there are twenty or thirty kids at the soda fountain. We know the patients, the docs… Right now," Loren says, "we have no plans to change the name. There's a lot of history here…and a giant sign."
Orpheum Theatre, 7 4th Ave SE
Conrad's Neon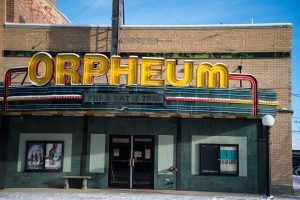 First, decide what you want—then figure out a way to pay for it.
That's the advice of Helen Elliot, who, along with Betty Conrad and Jayne Brown, started the Pondera Arts Council (PAC) nearly twenty years ago. Soon after PAC was formed, they offered "$25,000 and not a penny more" to buy Conrad's iconic Orpheum Theater. The purchase price more than doubled with an urgent roof repair. Over the years, the PAC has raised funds for ongoing projects to restore, enhance, and light up this hundred-year-old venue.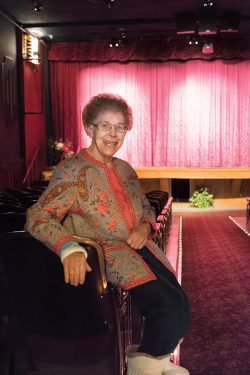 In addition to live performances, the Orpheum features first-run movies on weekends. Twice a year, their $1-a-seat classic movie series draws crowds from all over the Hi-Line. Check out upcoming events at conradorpheum.com